Do you suspect your child has dyslexia? Deciding to have your child tested for dyslexia is a big decision. We are going to take a look at how to test for dyslexia and when to make that decision.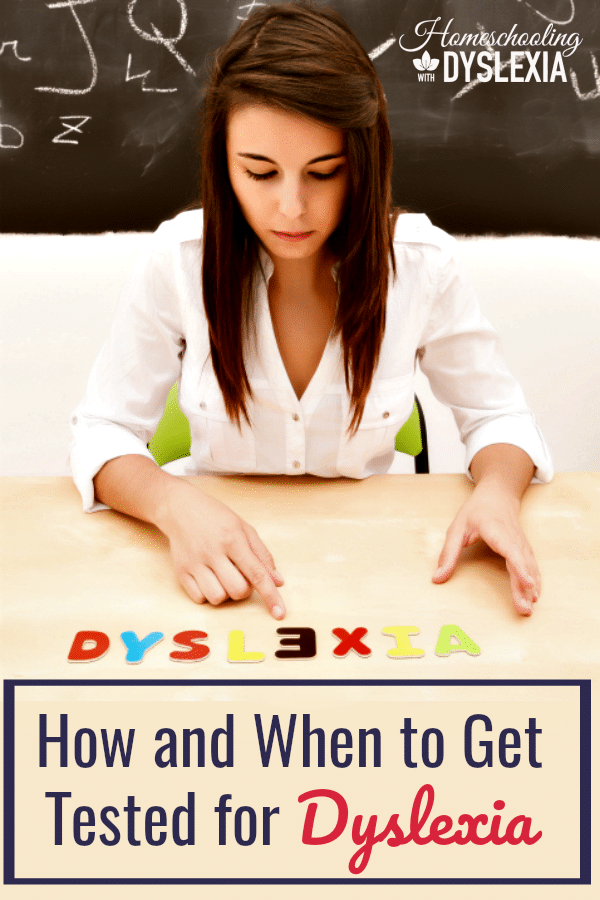 Dyslexia:  Mild, Moderate or Profound
Dyslexia varies in severity.  Two of my children are what can be called profoundly dyslexic.  They are both very bright and creative but struggled way more than my other dyslexic kids with reading, writing and spelling.  Two of my kids were moderately dyslexic.  They struggled with reading but after time and with perseverance, were able to read and spell well by working with me at home.  One of my kids was mildly dyslexic and though she was behind her peers for a time, is currently working at and above her grade level.
Individual strengths and weaknesses vary within each child.  Learning styles and personality can have a major effect on how well a child responds to instruction.  There came a time in one of our children's life that we knew he was simply not progressing at an acceptable pace and that we needed help. He was already in 5th grade but still unable to read much of anything on his own.   The first step to getting help is getting some kind of assessment of your child's individual learning profile.  What are their specific strengths?  What are their areas of weakness?
Types of Testing
 Quick Assessment:  The least expensive and time consuming type of testing done by an educational therapist (tutor) who specializes in reading.  This type of assessment will help you know what specific instructional needs your child needs to get caught up or on track with schoolwork.
Limited Testing of Specific Language Areas:  This middle level of assessment can be done at a specialized reading clinic and does not include in depth IQ and neuropsychological testing.  Please note that this type of reading clinic is one that specializes in dyslexia, not the Sylvan or Kumon general tutoring centers.  For example, Lindamood-Bell centers can evaluate oral language skills and word attack  and comprehension skills.  They can also test for auditory processing issues.
Full Psychoeducational Testing:  Includes a battery of standardized tests as well as some non standardized assessments specifically chosen by the licensed tester to evaluate the specific issues of each individual.  Includes a detailed questionnaire about the history of your child's development and behavior.  This also includes IQ testing to compare your child's potential to performance.  A significant difference between these two areas is considered one of the hallmark signs of dyslexia.
Why Test for Dyslexia?
If you suspect that your child has dyslexia based on the typical signs and characteristics, do you need to have them tested?  No.  However, even though dyslexia is the most common reason for an otherwise bright person to struggle with reading, accurate testing can help a potential tutor to know your child's particular weaknesses and the best way to tutor them.
Students with an official dyslexia diagnosis can also qualify to accommodations in testing and other educational situations as well.
Other reasons that I recommend parents have their homeschooled kids with dyslexia tested are:
to allay fears of concerned family members who may think that it is your fault that your kids aren't reading
to help an older child to understand that they really are smart!
if you may be needing some kind of official accommodations – such as in mandatory standardized testing
What age should be tested?
People can be accurately tested for dyslexia from the age of five.  Since early intervention has been shown to decrease any lag in education, the earlier the better.
Who gives the tests?
It is important that the professional who tests your child be an expert in dyslexia so that they understand which tests to give and how to score them.  Here is a list of questions to ask a potential tester:
What is your training?
What license do you hold?
How long have you been evaluating children?
Are you familiar with dyslexia?  What do you think dyslexia is?
What are some of the tests that you use?
Will you be able to refer us to an educational therapist?
Will you meet with us and provide a written report after the testing?
If my child his diagnosed with dyslexia, what specific method would you recommend?
How to find a dyslexia tester in your area
It may be difficult to find a tester in your area.  You may have to drive some ways to find someone who is uniquely qualified.  To find a tester in your area contact one of the following organizations:
International Dyslexia Association
Academic Language Therapy Association
Association of Educational Therapists
Which tests are given?
The standardized tests that kids take each year in school, measure how much they know in each subject – math, history, science, etc.  The type of test for dyslexia is a diagnostic test.  The administration of an appropriate diagnostic test can show in which specific areas your child is weak.  These results can be used to better understand areas to focus on in school or therapy and also prove eligibility for special programs in schools and colleges.
A series of tests (or a sub-series of tests) are usually chosen based on the issues that the child is having.  Areas tested include:  IQ, language abilities, and academic achievement in specific areas.  expressive oral language, expressive written language, receptive oral language, receptive written language, intellectual functioning, cognitive processing, and educational achievement. The reason that an IQ test is administered is to determine if there is a gap between what the child is capable of and what he is actually achieving.  This is a tell-tale sign of dyslexia.  The will help to determine whether the learning problems are specific to reading or if they are related to something else such as ADD/ADHD, emotional disorders, or physical or sensory problems.
Can the public school give the tests?
Public schools in most areas are required to test children who live in there service area, whether they attend the school or not.  However, most public schools do not test for dyslexia.  They are testing children to see if they are eligible for special education services.  There is a big difference between eligibility testing and diagnostic testing.  Often times, they are not even aware that there are tests for dyslexia that can be administered.  If you speak to the school, be sure to ask the questions above to determine if they meet the qualifications and that they can provide the right type of information that you are looking for – specifically if your child has dyslexia and what his or her specific areas of weakness are.
How much does it cost?
The cost of testing varies from state to state.  Dyslexia is not considered a medical condition so it is not covered by insurance.
A few last tips for testing
Select an evaluator that is especially knowledgeable in the specific area that you have concerns.  Some specialize in ADD/ADHD while others are more knowledgeable about reading, math, or writing.
Keep notes of which specific areas your child is struggling so that the tester knows better what to test for.
Testing your child is not always necessary for teaching them successfully.  Know that teaching reading and other language arts to a dyslexic child takes more time, more intensity and much more practice than teaching a child without dyslexia.  If you don't have the time or the ability to teach them as well as you would like, it may be time to consider testing and tutoring.
For more information on testing and finding a qualified educational therapist for your child, read my book, Dyslexia 101:  A Parent's Quick Start Guide to Navigating the World of Dyslexia.