Description
What's Included in the Processing, Memory and Executive Function Bundle
Get my 3 new parent education classes PLUS free access to Course 6 on Executive Function:

Auditory Processing and How it Affects Learning
Do you have a child who finds it hard to follow spoken directions, especially multi-step directions? Do have they have trouble 'getting' jokes or riddles or other figurative language such as metaphors and similes? Do they have trouble remembering what was read or heard? It may be due to a weakness in auditory processing – also called Auditory Processing Disorder.
In this online parent course, you will learn:
What auditory processing is and what Auditory Processing Disorder is

How weaknesses in auditory processing affects learning, communication, social skills, and everyday life skills
Specific types of auditory processing issues
Signs of Auditory Processing Disorder in both in academic and real life situations
How Auditory Processing Disorder is diagnosed
The connection between Auditory Processing Disorder and other learning struggles like Dyslexia and ADHD
Treatments for Auditory Processing Disorder
Strategies for helping kids with Auditory Processing Disorder
Best accommodations for Auditory Processing Disorder
Assistive technology that helps with Auditory Processing Disorder

Visual Processing: And How it Affects Learning
Do you have a child who is easily distracted by too much visual information, does a sloppy job with visual tasks, has difficulty writing within lines or margins, or frequently bumps into things? It may a visual processing weakness – also known as Visual Processing Disorder.
In this online parent course you will learn:
To understand what processing issues are
The definition of Visual Processing Disorder
The 8 areas of visual processing weakness that impact Visual Processing Disorder
How to know if your child's issues are vision-based or a processing issue
How to get a diagnosis
Symptoms and Signs of visual processing issues
Treatments for Visual Processing Disorder
Types of therapies and interventions to help kids with visual processing weaknesses
Tons of activities for building visual processing skills
Best accommodations for kids with Visual Processing Disorder
Best assistive technology for Visual Processing Disorder

Working Memory: And How it Affects Learning
Do you have a child who has trouble remembering facts and procedures such as new vocabulary or mathematical procedures? Do they have trouble following directions despite repeated instructions? Do they have difficulty starting work and staying on task? Do they frequently loose track of belongings? It may be a working memory weakness.
In this online parent course you will learn:
What working memory is
What working memory weaknesses are and how they affect learning
How working memory develops
What causes working memory weakness (and what doesn't)
Signs of working memory weakness
The connection between low working memory and other learning struggles like ADHD, dyslexia, and processing disorders
How working memory affects learning
How to test for working memory ability
How to help kids with working memory weaknesses
Accommodations that help with weak working memory
Assistive technology for working memory
Strategies for boosting memory and encouraging deeper understanding
PLUS free access to one of my meatiest courses to date: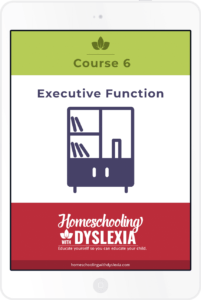 Executive Function: Teaching Your Dyslexic Child to Organize Their Thoughts, Personal Space, and Time.
Do you have a child who is hopelessly unorganized? Can never find their pack packs, folders or soccer cleats? Oftentimes these kids are not just disorganized with their belongings but also with their thoughts. These are the kids who have difficulty starting projects and once they've started them, often lack what it takes to complete them. You may be interested to know that there is a name for this type of disorganization – executive function – or in this case a lack of executive function skills.
In this class, you will learn:
what executive function is and how it develops
signs of executive function weakness
myths about kids (and adults) with executive function weakness
how executive function weaknesses can affect learning and academics, behavior and emotions, and social skills and relationships
targeted strategies to help kids learn to organize their time, thoughts, and belongings
strategies to help kids learn to prioritize tasks
strategies to help kids learn how to mange their time management
strategies to help kids learn self-control
and strategies to help kids develop better social skills
You can pay an executive function coach to teach these things to your kids or you can learn to teach them yourself!
How my Online Parent Courses Work
All parent courses come with:
online video instruction – approximately 1 hour each
a downloadable audio file
a printable pdf outline for easier note-taking
a list of relevant links and resources
an invitation to our private Facebook Page for course members only
These online courses come to you in both video and audio formats. All courses include a printable outline for note-taking and a downloadable audio recording of the class. You can listen any time, anywhere (and your spouse can listen too.)
We are also offering support in a private Facebook group for class members only.
You'll receive audio MP3s, PDF outlines, links to resources and access to small group encouragement. All courses are based on research-based methods of teaching with plethora of my own unique, personal experience teaching my own 7 kids with learning struggles over the past 20+ years.
This is an opportunity for you to learn what has taken me many years to learn. You could use trial and error to learn what this class will teach you, or you can sign up and learn strategies to help your kids learn more efficiently today!