Parents can struggle teaching writing to kids with dyslexia because although our kids usually have lots of creative ideas and could talk all day about them, the ability to write and spell those amazing words is often limited.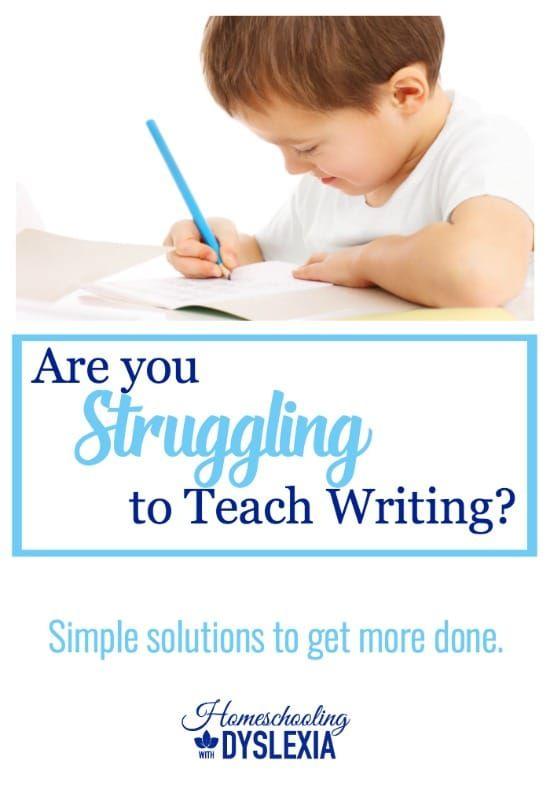 Personally, I have often struggled teaching writing to my kids.  This is ironic because I loved my writing classes all through school and I am a blogger who writes all the time! I know I'm not alone in this. Studies on homeschooled students show that writing skills are one of their areas of lowest achievement.
Why Are You Struggling with Teaching Writing?
I recently went through and did a thorough mid-year homeschool assessment. If you haven't taken the time yet to do that, I highly recommend it. They really can be done anytime of year – when ever your homeschool needs a reboot. Looking back on the previous months successes and failures (we all have both!) , can help refocus on your priorities and jumpstart your homeschool in the coming months.
Time
If you are struggling with teaching writing, sometimes it's your schedule that needs an adjustment – carving out the time each week to focus on writing. Learning how to focus on priorities is a big part of running an effective homeschool. During my planning sessions throughout the year, I make a wish list of things I want to cover during the school year. Next I prioritize that list. Next I add each subject to my schedule. When I'm out of room, there's no more time! Read this post for more creative ways to fit more learning time into your homeschool.
Assistive Technology
For many of you teaching kids with dyslexia, our kids' struggles to get their ideas on the page are enormous. Enter assistive technology. Kids are never too young to start learning to use assistive technology. Help them master a simple speech-to-text program and watch their writing be transformed!
Some of our favorite writing apps are:
Like other iOS word prediction tools, Spell Better acts as a basic word processor that provides spelling support by suggesting words as characters are typed. It has two unique features, however, that are worth noting. First, if students tap and hold a selection in the word prediction bar, the app will provide the pronunciation and dictionary definition. Second, students can have all of the word prediction choices read out loud in the order they appear before making a selection. FREE
This app allows you to type in a word phonetically (based on how it sounds) and it will come up with the actual spelling of the word. It also provides definitions to help you understand the meaning of the word.  FREE
A quick, easy to use, and comprehensive American English dictionary/thesaurus with 70 000 professionally recorded audio pronunciations. Fast searching, detailed definitions, synonyms, derived words, examples, and a great user interface let you easily navigate between words as you discover and explore their meanings.  $3.99
Dragon Dictation is a voice recognition app that allows the user to see the text generated through speaking instead of typing. It can be used with popular social networking applications.  Fairly basic as far as editing etc but a great and affordable way to get started with speech-to-text technology.  FREE
This app uses word prediction and has a sophisticated spelling error model to help you focus on the content of your writing. Typ-O is able to identify the most common spelling mistakes and will often suggest words.  $14.99
To see our favorite assistive technology programs and apps for writing, organizing, math and other subjects by reading this post.
Curriculum
Sometimes the problem with teaching writing is the curriculum you're using. Programs that are boring or hard to follow can make it hard even for moms to get excited about using them!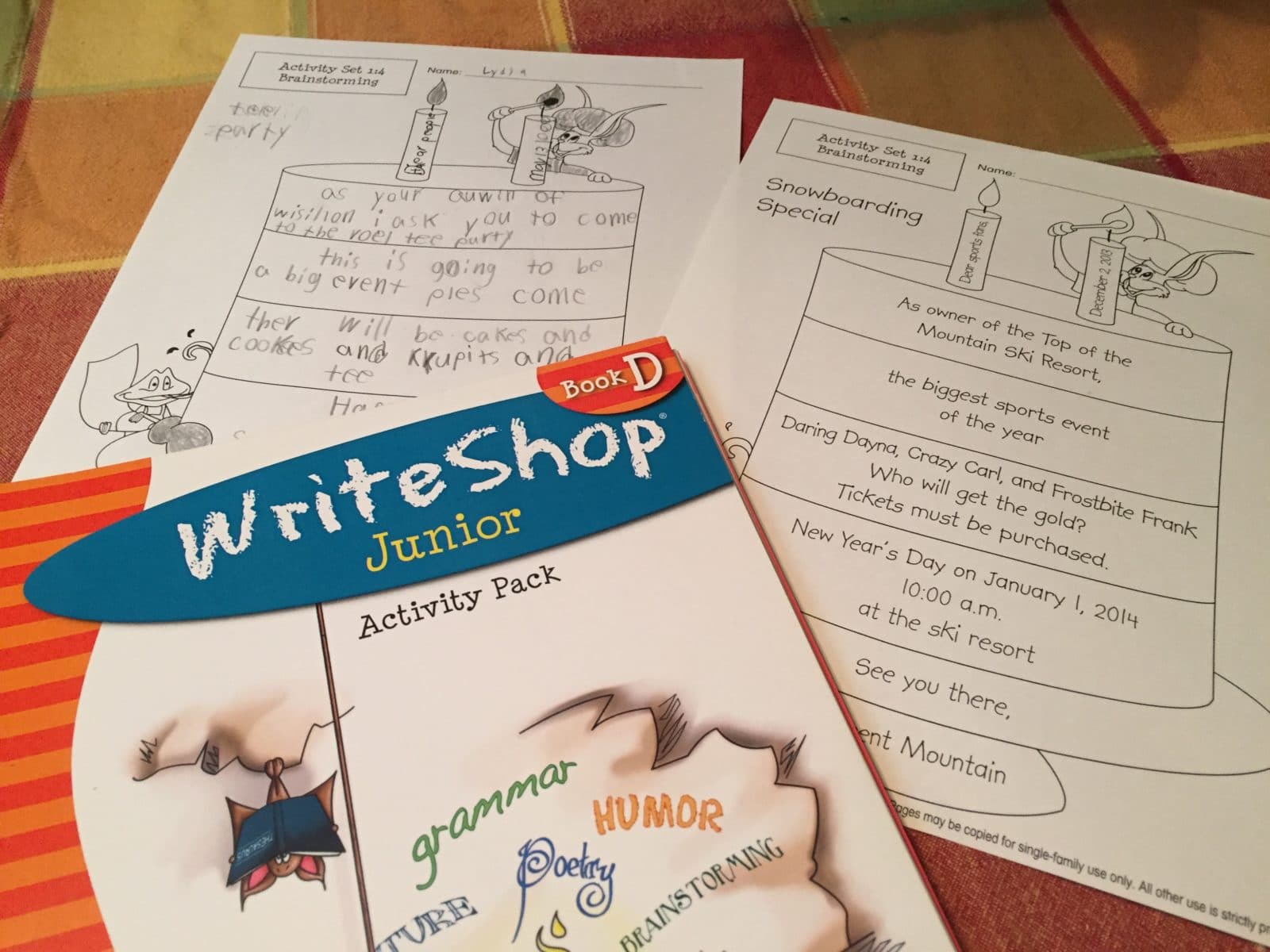 WriteShop for Teaching Writing
Last year, my dyslexic 9-year-old had great success with the WriteShop Junior (for grades 3-6) writing program. You can read about our experience with WriteShop in my review by clicking here.
Here is an excerpt from my review:
"What I Liked About WriteShop Junior
I felt equipped. I've never felt confident to teach writing to my kids.  Ironic isn't it since I am a writer? I know that many other parents feel this way as well. The many tools and tips in the Teacher's Guide gave me tons of ideas for how to implement and individualize each lesson.
Uses the same eight steps for each lesson.  This systematic approach to teaching not only makes it easier for mom to organize and teach, it also was nice for my son who began to anticipate the steps for each lesson.
Teaches different genres.  Each lesson teaches different grammar and writing concepts using different genres. Because of this, we covered a lot of material and my son, prone to boredom (ADD anyone?) enjoyed the variety."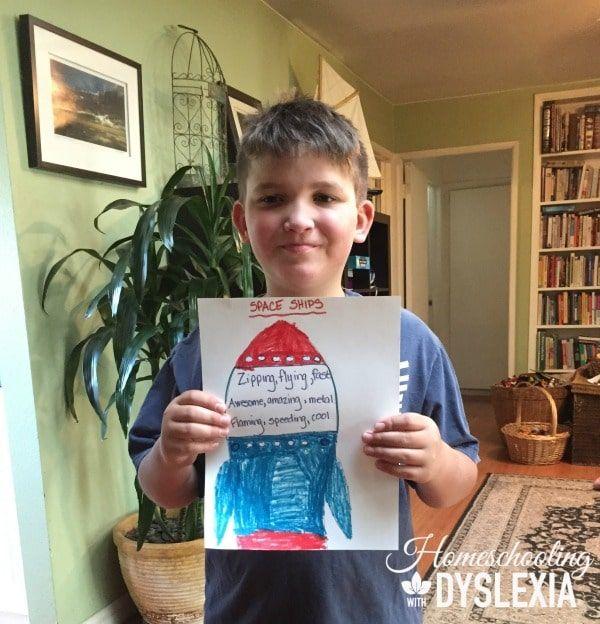 Why WriteShop is a Good Fit for Kids With Dyslexia
I also wrote about why, as a trained dyslexia tutor, I believe that WriteShop is a good fit for kids with dyslexia. You can read that post here.
Here is an excerpt from that post highlighting how WriteShop Junior fits the needs of my son with dyslexia and dysgraphia:
WriteShop teaches explicitly. Each WriteShop Junior lesson begins with a 'Model and Teach' pre-activity.  All new ideas and writing tools are introduced by the parent/teacher.  Parents will write, modeling the correct way to write, while the student observes.
WriteShop teaches systematically.  Each lesson is divided into 8 Activity Sets with several exercises. These activity sets are the same with every lesson and provide a comfortable and predictable routine for teaching for both teacher and student.
WriteShop teaches sequentially. Beginning with writing a simple invitation to friends, WriteShop Junior teaches new concepts and writing tools gradually, building on concepts previously learned.
WriteShop uses hands-on, or multi-sensory, teaching methods. All pre-writing activities are hands-on games that help kids explore new concepts such as voice, genre, and descriptive vocabulary without writing.
WriteShop can easily be individualized.  The WriteShop Teacher's Manual encourages parents to help their children learn to enjoy the writing process and to allow a child to dictate whatever he or she cannot write on their own.  Each WriteShop lesson also includes suggestions for adapting the lessons for both a struggling writer and an advanced student.
Did you hear that WriteShop just released WriteShop Junior Level F which includes teaching the 5-paragraph essay? I've got my copy and can't wait to check it out!
 How's writing instruction going in your homeschool? Leave a comment below and let us know!