I'm teaching my 8th kindergartener this year.  He also happens to my 7th child with dyslexia.  We're using my favorite Orton-Gillingham-based reading program, All About Reading Level 1.  (Read my complete review here.)  So far my little guy is learning his sounds just fine but when it came to blending these sounds together, we hit a road block.  I figured that if my family needed help in this area, yours may also so here we go.
What is blending?
Blending is the skill of joining individual speech sounds (phonemes) together to make a word.  While many young learners can learn letter sounds, blending these sounds together can be difficult, especially for kids with dyslexia.  Blending actually involves the use of phonemic awareness skills and  needs to be explicitly taught as part of a research-based approach to teaching reading.
Why is blending important?
Blending is super important because being able to mentally join speech sounds together to make words helps students to decode unfamiliar words using letter-sound patterns when reading. Difficulties with the ability to blend is a hallmark sign of the struggling reader.
Why do some kids have difficulty blending sounds into words?
Kids who have difficulty blending phonemes (sounds) into words often are lacking in phonemic awareness skills.  Blending also requires a student to hold the individual sounds in their mind as the word is created. This ability to hold sounds or syllables on a 'thinking counter space' is uses a student's active working memory.  Kids with dyslexia often have poor working memory skills.
What to do if your child is having difficulty blending.
Difficulty blending sounds (phonemes) into words reflects a phonemic awareness weakness.  Developing a child's phonemic awareness can be strengthened using some simple games.  These can be incorporated into your daily teaching time with little effort.
Strategies for teaching blending to struggling readers.
Blending Game
Say the word 'mom' slowly, holding each of the sounds for 1-2 seconds 'mmmmooooommmmm'.
Have your child:
listen to the sounds
blend them together in his/her head
determine the word
say the word out loud
Repeat this often using other words.
The 'Take Away" Game
The "take away" game is fun game in which kids take sounds away from words. An example is, "Say the word sun" (child repeats sun). "Now say it without the sss sound" (un) . . . say the word boy, now say it without the /b/ sound (oy)." You may have to help your child at first. As he or she gets better at this, you can have him or her take away blends (bl, tr) and eventually ending sounds.
Elkonin Boxes
Provide your child with a picture (e.g. a cat) and have them sound out the name while placing marbles, drawing marks, or tapping their fingers for each of the individual sounds in the word (e.g., /c/…/a/…/t/ is composed of 3 sounds, thus the child would use 3 marbles, marks, or taps.)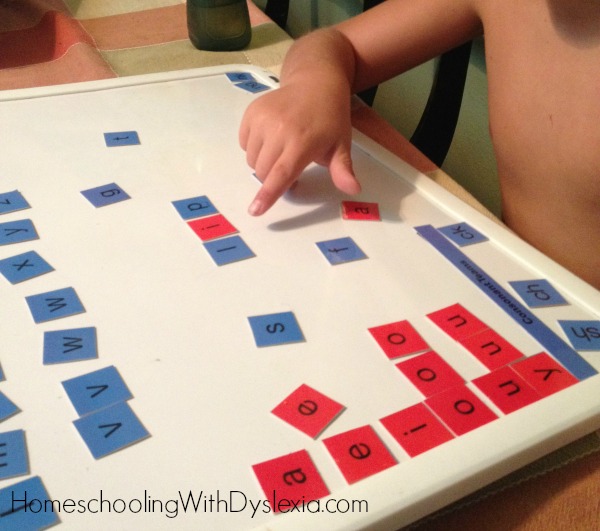 How to Support Your Child During Reading Instruction
The most effective reading instruction includes modeling followed by guided support.  As you sit with your child, model the correct blending of a word.  Start by saying the sounds slowly and continue to guide them by saying the sounds faster and faster until they are able to discern the word.
Tips for teaching blending:
Some letter sounds can be elongated and held continuously:
• a, e, f, i, l, m, n, o, r, s, u, v, w, y, z
Other letter sounds cannot be elongated or held continuously:
• b, c, d, g, h, j, k, p, q, t, x
If the sound can be held continuously, hold the sound for 1-2 seconds and blend it smoothly into the next sound in the word
• For example, for the word man, say "mmmmaaaannnn"
If the sound can not be held continuously, say the sound once, pause briefly for 1-2 seconds, and then say the next sound in the word elongating it for 1-2 seconds if possible
• For example, for the word pin, say "p [1 second pause] iiiinnnn"
It is easier to blend sounds that can be held continuously.
Start instruction with words that have continuous sounds
• For example, mom, run, van, sun
Gradually add words that have sounds that cannot be held continuously
• For example, dad, cat, dog, pop
Click here for a list of word families to use for phonemic awareness exercises.
Some students may benefit from visual supports when learning sound blending skills.
Point to the letters while saying each of the sounds slowly.
Say "rrrruuuunnnn" and point to the letters r, u, and n in sequence as each sound is said
The letters provide a visual support to help the student hold the sounds in memory.
Some students may benefit from kinesthetic supports when learning sound blending skills.  Drive a small car over each letter (on a card on the table) while saying each sound slowly.
Resources for Teaching Phonemic Awareness, Blending and Segmenting
By practicing phonemic awareness skills and modeling blending skills, your early reader will soon be blending and decoding simple words.  The following links lead to lots of fantastic, free activities that you can easily do at home to enhance your child's phonemic awareness and thus, their ability to blend sounds into words.
FREE Printable Phonemic Awareness Activities
FREE Phonemic Awareness Activities
TONS of Tips for Teaching Phonemic Awareness
FREE Printable Phonemic Awareness Activities
Huge List of Phonemic Awareness Activities 
Have your kids had trouble blending?  What solutions did you find?