If you are reading this post, you are probably like most parents of dyslexic kids and earnestly seeking a way to help your child overcome their learning struggles.  You've come to the right place because I am all about education here.  After wasting years trying programs and treatments that didn't work, I started this site to help parents be able to know what things will and what things won't help their kids with dyslexia.
1.  Waiting.  Dyslexia is not a developmental delay.  Dyslexic kids will become dyslexic adults. Studies have shown that dyslexic children who receive early intervention can learn to read without falling behind their peers.  Studies also show that kids who are poor readers in 3rd grade will continue to be poor readers into adulthood.  Click this post for more ideas on early intervention.
2.  Non Orton-Gillingham-based reading programs.  There is a reason that kids with dyslexia struggle with learning to read with the traditional phonics programs found in schools.  Over 100 years ago Drs Orton and Gillingham researched methods that work with dyslexic readers and they still work today.  Click on this post for more information on reading methods that work with dyslexic learners.
3.  Supplements or drugs.  While taking vitamins may be good for your health, they will not eliminate learning struggles.  There are medications that may help with attention and focus issues but they will not eliminate dyslexia.
4.  Trying harder.  Dyslexia is sometimes called a 'hidden disability'.  You cannot tell if a person is dyslexic by looking at them, listening to them speak or hanging out with them at the mall.  Because people with dyslexia are bright and articulate, their reading and writing struggles are often masked.  This can appear to those who are as yet uneducated about dyslexia, to be a lack of effort or laziness.  This is not the case.  People with dyslexia desperately want to read and write better.  Trying harder doesn't help!  The write teaching dyslexics the way they learn is what will help.
5.  Worry.  It is normal to be concerned about your kids' future.  All parents wonder about how to provide the best opportunities for their children.  However, worrying about these things won't help.  What will help is to get educated about what dyslexia is, how dyslexics learn and what you can do as a parent to empower and advocate for your kids.  Visit our Resources Page for our top picks on reliable sources of dyslexia information.
I know that I have tried all of these at one time or another.  Instead of looking back on the mistakes I've made along the way, I choose to adopt the attitude of Thomas Edison (whom is believed to have been dyslexic).  
"I have not failed, I have found 10,000 ways that won't work."  Thomas Edison  
How many of these have you tried? How is getting educated changing the way you deal with your child's dyslexia?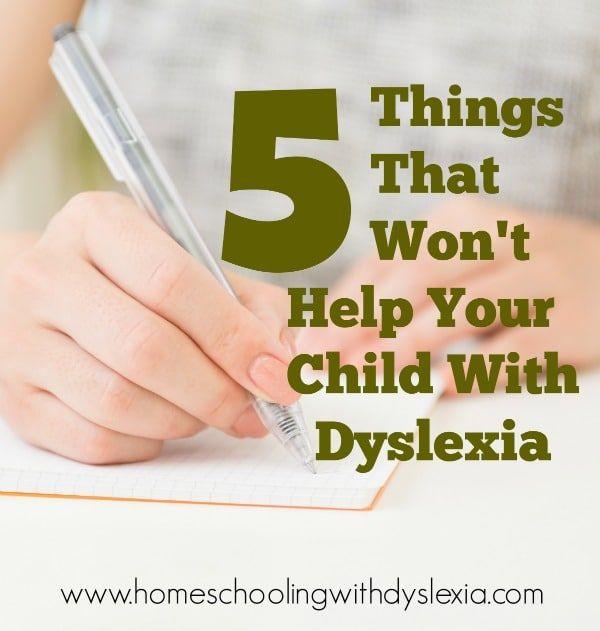 Get Educated About Dyslexia
If you are looking to get educated about dyslexia and how to educate, encourage and empower your kids with dyslexia, you have come to the right place.
For more information on getting started homeschooling your child with dyslexia, download my free e-book, Homeschooling With Dyslexia 101, that covers things like understanding learning styles and teaching methods, how to create a positive learning environment and schedule, or how to set goals and get it all done.
For more information on specific strategies to teach your dyslexic child the way he or she learns, consider taking one of our Parent Dyslexia Classes.  Classes now available are:
Teaching Reading:  Methods That Work
Building Fluency and Comprehension
Or buy all 5 classes in our Foundation Bundle and receive a free download of my book, Dyslexia 101:  Truths, Myths and What Really Works.
Stay in Touch
We have quite an active Facebook community where I frequently post articles of interest and encouragement.  I also have a growing Pinterest Page with a wide variety of teaching tips for all subjects.
You can also subscribe to receive blog updates via email below.

Join the newsletter
Subscribe to get our latest content by email.