What to expect, setting goals and the best curriculum choices for homeschooling kids with dyslexia in grades 1 – 3.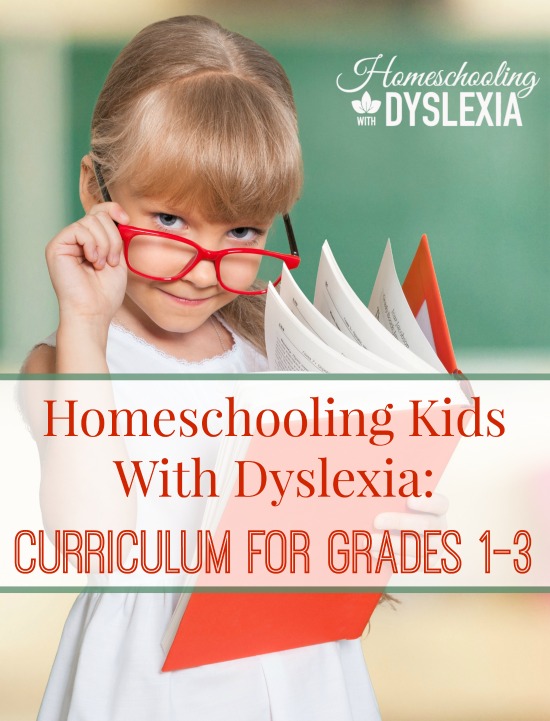 I am a firm believer in the benefits of homeschooling kids with dyslexia. I should know really. I've been homeschooling kids with dyslexia for the past 25 years! I have seen the failure of the public schools, despite the efforts of many well intentioned teachers and administrators. The system is big, short on funds, and dealing with children with all kinds of learning and personal challenges.
I have also seen my kids thrive when they are able to learn at their own pace and are free from being misjudged by uneducated teachers and being compared to kids who are traditional learners.
Even the International Dyslexia Association agrees:

Dyslexic students need direct, systematic and individual instruction in reading and spelling and traditional schools do not always provide adequate levels of service.
If you're still trying to decide whether or not to homeschool your kids with dyslexia, read this too.
First Things First
Before I launch into a discussion on the who, what, why, when, and where of teaching kids in 1 – 3rd grades, there is something that needs to be understood. We are homeschooling our kids because the 'one-size-fits-all' teaching of the public and most private schools doesn't work for our kids who learn differently. It is not my intention to create another set of unrealistic expectations for you as homeschool parents, but rather to offer some insights on what you may be experiencing and some ways that we have been able to encourage enjoyable and individualized learning in our home full of dyslexic learners.
Basic Child Development Ages 6 – 9
It is important to note that many kids, especially those with Executive Function weaknesses, develop slower than average. I have one son who is consistently 18 months behind his peers in social, emotional, intellectual and even in some ways, physical development. He is making steady progress and so we persevere – learning at his pace.
Intellectual Development
Most kids learn to read during these years. However, many dyslexic children do not. More on this in a minute!
By age 6 most kids can count to 100 and by age 9 kids are learning to multiply, or in our case with kids with dyslexia, skip count.
Increased ability to think logically
These kids love hands-on experiential learning.
Physical Development
Kids at this age are becoming more coordinated and are able to dribble a ball, ride a two-wheeled bike and are better able to throw and catch balls.
Kids this age like to move. Many become restless and wiggle if they sit for too long, which is why school can be difficult for some children at this age.
Social Development
Children this age become more savvy with relationships and may have a 'best friend', but they also may have more conflicts with their peers.
Many children are competitive, and can become argumentative and quarrelsome when they lose.
Children in this age group can be hard on their younger siblings.
At age 6 or 7, kids tend to do best with one friend, but by age 8 or 9 they can begin working well in small groups of three or four.
Emotional Development
Children this age still tend to be self-centered. Most want to be first, and most want all the attention. Squabbles can break out when your child feels slighted.
It's not uncommon for kids this age to sulk, pout, or worry. Helping him or her learn to deal with disappointments and worries is part of parenting this age.
These children tend to have their feelings easily hurt. They also tend to assume that people who hurt them "did it on purpose."
Daily Dos
Before we get to curriculum choices and learning styles, here are a few things that are priorities in our homeschool.
Reading aloud
Because many dyslexic kids at this age are not able to read independently, it is vitally important to make reading aloud good literature a daily habit. Reading aloud (or allowing the use of good quality audio books) fosters a love and appreciation for books and reading as well as exposing young learners to vocabulary and increasingly complicated sentence structures. Consider practicing the gentle art of narration (telling back what you've heard) with your kids during and after read aloud time.
Limit screen time
This is more of a daily don't. It can be tempting for busy homeschool moms to get a little quiet by allowing kids to play on computer games or tablets but research has shown that screen time can have negative affects on young learners, especially those with attention issues like ADD or ADHD.
Provide plenty of down time or time to play
With the recent increase in rigorous academcis studies in many American schools, we are seeing less and less down time or play time being provided to kids even in these early grades. Honestly, the negative impact of this change is enough reason to homeschool any child in my humble opinion! Play time, especially outdoor play, has been linked to many lifelong benefits.
Encourage some independent learning
Kids with dyslexia can have a harder time with independent learning than kids who are confident readers. All kids are different. Some will naturally be more independent, however, I encourage you to find tasks, math fact practice, handwriting or copy work practice, or something that your kids ages 6 – 9 can do independently and start having them do a little independent work each day. Highly praise and encourage this behavior!
Hands-on learning
This is what can really set your homeschool apart from the public and even private schools. Most people, and especially kids of this age range, love to learn by doing. This kind of multi-sensory learning taps in to physical, visual and auditory pathways which activates more areas of the brain and results in a better, more long lasting memory of learning. See resources below for some ideas of good sources for hands on learning.
Foster friendships
Kids at this age are becoming more social. Homeschooling families need to be intentional about providing sources of friendship for their kids. Most homeschool families never have a problem with this but it bears mentioning. Joining a small Cub Scout pack has been a huge source of social and emotional growth for my 8-year old son who was lacking in these areas. Other sources for friends are churches, homeschool groups or co-ops, sports teams, robotic or programming clubs etc.
Learning to take responsibility
Kids at this age should be given simple and increasingly elaborate chores and household responsibilities. Make lists and have them begin to take responsibility for their bedrooms, toys, clothing and pets. We assign each child a small patch of garden every springtime. This helps them to practice daily care and they love harvesting the fruit of their labor!
Learning to temper feelings – learning self control
I have often said that character training is a subject just like reading, writing and math. I mean, we spend plenty of time every day teaching these things anyway, right? Looking at character training as less of an inconvenience and more of a daily-do will help you to have the right attitude when those training opportunities arise.
Curriculum Choices for Homeschooling Kids With Dyslexia
Character Training
Parents, especially homeschooling parents, will spend an enormous amount of time correcting behavior. Even the most easy-going of kids will need to be taught to think of others before themselves, and to be patient and kind. One powerful way to teach this most important of subjects is through the reading of good literature. Don't let your kids' reading lags stop this from happening. While other kids at this age may be reading to themselves, reading aloud can achieve the same or even better results.
Resources for Quality Read Aloud Materials
Other read aloud resources that we love:
Reading
The most important thing for homeschooling parents of kids with dyslexia to remember is to teach your kids at their ability level, which will likely not be their grade level. In my posts on homeschooling Preschool and Kindergarten, I talked about the importance of laying a strong foundation in phonemic awareness in young children.
Not to worry, if you are just beginning to understand that your child is dyslexic, all of the programs that I recommend will teach phonemic awareness in their early levels if that is a skill your child needs help with.
All kids with dyslexia can learn to read with the right methods. The method with the strongest track record for teaching kids with dyslexia to read is Orton-Gillingham. To learn more fully about the Orton-Gillingham (or OG) Approach to teaching reading, read this post.
This site is full of articles on teaching reading. If you're still wondering how to teach your child with dyslexia to read, read these:
Is it Dyslexia? Signs and Symptoms of Dyslexia
How Dyslexics Learn: Teaching to the Dyslexic Strengths
Reading Methods That Work With Dyslexia
How to Teach Sight Words to Kids With Dyslexia
Building Fluency in Dyslexic Readers
Best Reading Programs for Homeschooling Kids With Dyslexia
There are several affordable, effective, research-based programs that can be used at home without becoming a certified dyslexia tutor. Here are our top picks:
All About Reading All About Reading and their spelling program All About Spelling are hands on, simultaneously multisensory introduction into the written word. Every lesson comes with an engaging phonemic awareness activity that is so fun, your kids won't know they are learning one of the most foundational skills of reading success. Lessons are completely scripted so there is little prep time for mom. The customer service at All About Learning Press is top notch. Specifically designed for the homeschooled student that struggles with reading. This program has all of the elements of an Orton-Gillingham research-based reading program. For more information, click the image below.

Barton Reading Another one-on-one reading tutoring system, completely scripted for easy parent use and Orton-Gillingham based.
Logic of English A comprehensive, completely scripted reading, spelling, handwriting and grammar program based on the Orton-Gillingham approach. The Foundations levels are geared for ages 4-7 and include a daily variety of phonemic awareness and truly kinesthetic review activities.
The Wilson Program Not as user friendly as All About Reading/Spelling or Barton but an affordable, evidence-based program that really works.
Best Math Programs for Homeschooling Kids With Dyslexia
Math-U-See An uncomplicated, hands-on, time-tested program for teaching math. Children learn each mathematical concept by building it, writing it and saying it. Used with base 10 math manipulatives, many dyslexic children find success with Math U See.
Teaching Textbooks (beginning in 3rd grade) Like having the 'good' math teacher year after year. Teaching Textbooks is computer based (no Internet required). Each lesson is taught and followed by 5 practice problems. Kids then work each lesson right on the computer. Immediate feedback allows students to watch the solution to any incorrect answers – after 2 tries.
Right Start Math Another hands-on program that de-emphasizes counting, uses visualization of quantities, and provides strategies and visual pictures for learning the facts. Understanding and problem solving are emphasized throughout the curriculum. The primary learning tool is the Abacus, a specially designed two-sided abacus that is both kinesthetic and visual.
Touch Math A highly visual, hands on program designed for kids who struggle with math.
Fun and (mostly) free math resources:
cook a recipe
play a math game
play a board game
download a math app or game
play store with a toy cash register
Best History Programs for Homeschooling Kids With Dyslexia
Since most kids with dyslexia won't be reading independently at this age, it will be important to find an enjoyable history program that can be read aloud or listened to on CD.
Story of the World by Susan Weiss Bauer This program is available in paperback book with an optional CD version and a comprehensive curriculum guide and activity book that contains map activities, coloring pages, games, projects, review questions, cross-references to illustrated encyclopedias, and extensive book lists. Children and parents love the activities, ranging from cooking projects to crafts, board games to science experiments, and puzzles to projects.
Beautiful Feet Learn history through literature with Beautiful Feet History Guides.
Five in a Row The four volumes of Five in a Row contain 70 literature based unit studies covering Social Studies, Geography, Language Arts, Applied Math, Science and Art in a way that causes children to fall in love with learning. Read each book once a week (5 days in a row) and choose an activity to teach along with the story.
Fun and (mostly) free history resources:
No need to bore your kids to tears with history. Teach your kids with real learning. Especially in the early grades, history should be more about exposure to ideas than learning names and dates. Captivate your kids imaginations with:
read quality historical fiction
take field trips to historical sites or museums
play a history or geography game
put together a map puzzle
create a timeline and add events and people as you learn throughout the years
watch historical movies or documentaries
Best Science Programs for Homeschooling Kids With Dyslexia
Apologia Exploring Creation Young Explorers Series For grades K-6. This is a Christian curriculum that teaches about science from a creationist point of view. Program comes with ideas for hands on projects. Optional Science Journals available. I prefer to use this excellent series as a guide as the long, detailed lessons can be too much for younger kids. Read the main points and focus on the hands-on activities. They will for sure remember those!
Five in a Row The four volumes of Five in a Row contain 70 literature based unit studies covering Social Studies, Geography, Language Arts, Applied Math, Science and Art in a way that causes children to fall in love with learning. Read each book once a week (5 days in a row) and choose an activity to teach along with the story.
As with teaching history, teaching science to kids in grades 1 – 3 can be low key, hands on and fun!
Fun and (mostly) free science resources:
read living science books
get outside and study nature
get a book of simple science experiments to do at home
visit a science museum or zoo
watch a science documentary or educational show
read biographies of scientists
Best Handwriting Programs for Homeschooling Kids With Dyslexia
Many kids with dyslexia will also struggle with the physical act of writing – also known as dysgraphia. Taking a relaxed approach to writing is not only doable as a homeschooler but is advisable. Start handwriting by having your child trace letters in a shallow tray of salt or sand or trace sandpaper letters. Move to dry erase pens on a white board after that.
Handwriting Without Tears (check out their iPad app!) Designed for kids who are struggling with learning to write.
Italic Series A simple font that is easy to read and easy to write.
Logic of English Foundations reading program for ages 4-7 includes handwriting instruction.
Tools for Kids With Dysgraphia
A Few Thoughts on Grade Levels and Falling Behind in the Homeschool
If you talk to a burned out homeschool parent of a dyslexic child (I talk to lots of them!) it is pretty common that their educational goals for their kids – goals to be at or above 'grade level' – are making them crazy.
It isn't until they begin to move from an achievement mentality to a progress/mastery mentality they begin to find the freedom and enjoyment of homeschooling.
What do I mean by a progress/mastery mentality?
Most homeschoolers need to shed the 'school-at-home' mentality in order to create a home learning environment in which their kids can thrive. This is never more true than for the homeschool family teaching kids with dyslexia.
It doesn't really matter how much you, or any well-meaning family member, wants your child to be reading at his or her 'grade level'. If they aren't able to do it – you have to teach them, faithfully, at their current level until they get there. Is your child making progress? Are they mastering their subjects – regardless of what grade level they're working on?
Read these posts for more information on Setting Goals for Your Dyslexic Homeschooler, and How to Know if You're Doing Enough
Related Posts
Homeschooling Kids With Dyslexia: Preschool