I talk a lot here on the blog about the freedom of homeschooling and the power of individualized instruction and interest-led learning. I whole-heartedly believe in these facets of teaching kids with dyslexia at home.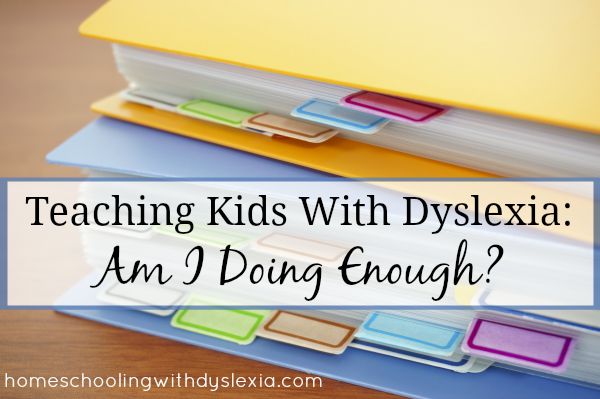 However, with the freedoms of homeschooling often come doubts as to whether we are actually doing enough school.  Interest-led learning is so fun it may not seem as legitimate as traditional school methods.  Modifying curricula so that our kids can learn at their own level can make us feel 'behind'.  Pursuing interests and tailoring learning around these interests isn't as easy to measure as neat and tidy textbooks and workbooks.
Keeping your eye on the big picture
As a homeschool consultant, I talk to lots of moms who are anxious about their ability to homeschool. Oftentimes I find that they are honing in on specific details so closely, they are totally forgetting about the big picture – their long term vision and goals.
I can't tell you if you're doing enough academically with your kids because each family is unique. I can give you some perspective as a mom who has graduated four dyslexic kids so far – 4 down and 4 to go!
For more information on dyslexia in high school and college, click here.
Watching my young adults launch into the world, I am understanding more and more the value of the larger goal of helping kids to find and have ample time to pursue their interests. All of our kids are uniquely made and come with a surprising variety of strengths and abilities.
So while we're teaching our kids to read, write and do math – we want to be keeping an eye out for what makes our kids excited. What do they love to do day after day? What do they dream about, talk about – even read about?
After all, one day they will be reading, writing and performing at least basic math – then what? Will their curiosity still be alive? Will their confidence be intact? Will they know themselves and their strengths so that they can choose the best career path? Not to mention their relationship with you!
These are important things to think about. It can be easy to get so caught up in the day to day struggles that we fail to see the bigger picture.
Knowing how hard to push
I became an Orton-Gillingham dyslexia tutor so that I could more confidently teach my kids at home. While getting this training isn't necessary – it has been very helpful to me as I have a larger toolbox to draw from in my day-to-day teaching. Still, however, I have many days where I am teaching my 8-year old son and he struggles.
Finding a balance between being too lax and pushing so hard that kids rebel isn't always straightforward. Let's look a little closer to my reading lesson with Ben.
A real-life example
Ben just turned 8. He is probably mildly to moderately dyslexic. He just started 3rd grade and reads at about the middle of first-grade level.
He is strong-willed and a perfectionist! Although he has come a long way over the past few years – he still requires a lot of firm boundaries pretty much all day long.
When I call Ben to the table to start our Reading Time – he almost always comes happily. He likes this one-on-one time with me and now that we are using an Orton-Gillingham, research-based reading curriculum enjoys solving the puzzle of reading.
Fast forward 20-25 minutes.
He's reviewed his sight words, decoded a dozen words using the latest rule he's learned, he's read 3 or 4 sentences and a stack of review words. As his mom and teacher, I am happy with his progress. He is learning!
Now, according to my lesson plan, it's time for him to build a dozen or so words with magnetic letter tiles, write these same words and write a sentence from dictation, followed by having him read to me from his All About Reading Readers.
He's getting tired and starts to make mistakes that frustrate him. A few more mistakes and now he is in tears. He begins to complain that he doesn't want to do any more school.
What should I do? Should I push him to finish his lesson or should I let him stop? How do I decide?
Because I know Ben can be impulsive and emotional – I am super cautious of him quitting when things get hard. After his first few mistakes, I push him to continue. I remind him of his treat (he gets to eat a cookie or some other treat after he is finished) and encourage him to press on.
Having learned about the power of a growth mindset, I praise his hard work. I remind him how he is exercising his reading muscle and that one day reading will be easier. We stop and talk about how strong he is and he happily shows off the muscles in his arms.
I can see that his heart is good – he wants to do well. But here's some truth – reading for a child with dyslexia is hard work!
Ending on a positive note is why he pretty much always comes to the table for Reading Time with a good attitude.
We take a break with the understanding that we will come back to his reading lesson later to finish.
What do you think? What would you do? Would you stop or continue?
Sometimes we get back to his lesson and sometimes the afternoon gets busy and we never finish that day's work. We pick up where we left off the following morning, work until Ben is making mistakes out of fatigue and stop.
Knowing that I speak all the time on early intervention and the power of Orton-Gillingham reading instruction and knowing that people are watching my level of success with my kids makes me want to push Ben. After all, technically, he is not reading at 'grade level', right?
Perspective
If I take a minute to step back and remember the big picture, I will remember that helping my kids maintain a love for learning is very important to me. I remember all of the parents of public schooled kids I've talked to and the powerful, negative effects of pushing them too hard day after day. I look at Ben's heart and how he loves to read and how hard he tries.
And with this perspective, I can confidently know that I have pushed him hard enough for today. Homeschooling kids with dyslexia requires a fairly delicate balance between modification, remediation, and accommodation.
Do I always get it right?  Not likely.  Even moms who are with their kids all day every day don't always know if their kids are truly pushed hard enough.  But I can't really say that I've failed in educating my kids if I have succeeded in keeping their trust, nurtured their love of learning, and taught them in a way that they can thrive rather than just survive.
How about you? How do you know if you are doing enough?
For more information on specific strategies to teach your dyslexic child the way he or she learns, consider taking one of our Parent Dyslexia Classes. Classes now available are:
Teaching Reading: Methods That Work
Building Fluency and Comprehension
Or buy all 5 classes in our Foundation Bundle and receive a free download of my book, Dyslexia 101: Truths, Myths and What Really Works.