As with reading and spelling, teaching writing to kids with dyslexia can be done and done well with the right methods!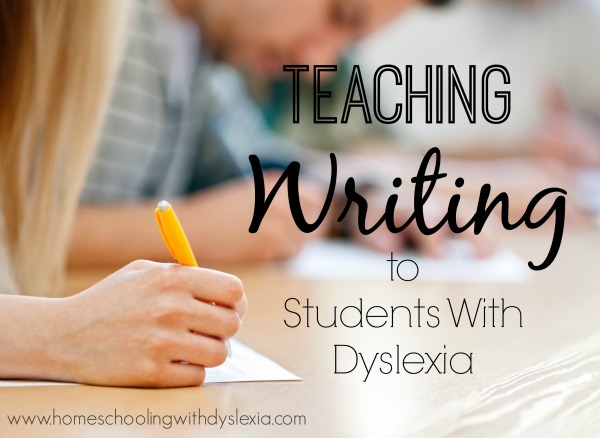 I get a lot of questions from readers asking how to teach writing skills to kids with dyslexia.  I have had quite a bit of experience with this, in fact I just helped my teenage daughter write an elaborate research paper for her college speech class.  She has come a looooooong way from those early days when even simple writing assignments resulted in tears and frustration!
Teaching Writing to Kids With Dyslexia
Help them understand the assignment. Many kids with dyslexia also struggle with executive function skills such as organizing, planning and prioritizing. This can make the writing process agonizingly difficult and slow for some kids. There are many different types of writing assignments and so before your child gets started it is important for them to truly understand what is being asked of them. In my home, one of my kids wants to make every writing assignment into a creative writing project. She loves to write creatively. So when she is assigned a research type of assignment, it is important for me to remind her that not only does she not NEED to elaborate creatively on the subject, but that she SHOULD not!
Teach them how to use mind maps to organize their thoughts. People with dyslexia are known for their great ideas (40% of entrepreneurs are dyslexic). This can become a problem, however, when there are too many ideas! Teach your kids how to organize their thoughts using a mind map.
The basic idea behind mind mapping is that each main idea goes in a 'bubble' with supporting details in smaller bubbles surrounding the main idea.  There is something about the visual aspect of the mind map that has been incredibly powerful for helping our kids with dyslexia organize their thoughts before writing them down.
Most of our kids' mindmaps have been sketched into a simple spiral bound notebook.  However, there are an abundance of apps and other programs to help with this.  Visit our Resources Page for our recommendations.
Putting words on paper. The next step in the writing process that can cause difficulties for a student with dyslexia is getting their words on paper, or onto a computer. Since many kids with dyslexia struggle with handwriting and most students with dyslexia will struggle with spelling, this can be a real challenge.
Scribe: Have mom or dad or another sibling be the scribe and have your child dictate the paper to them.
Speech-to-text: Utilize one of many computer programs and apps that actually take your spoken words and convert them into text. These can be as simple as the free iPad app Dragon Dictate to more elaborate computer programs such as Dragon Naturally Speaking.
Typing with a good spell checker.  Visit the Resources page of this site for dyslexia-friendly recommendations for spell checkers and other forms of assistive technology.
Utilize an editing checklist. An editing checklist such as the COPS Editing Checklist will help your child develop the skills to self check their writing assignments.  At first, this will need to be done alongside your student until they have mastered the skills to complete the check list on their own. A good writing checklist will walk your student through each area of writing that needs to be proofed before the paper is ready to hand in.
Other thoughts on teaching writing to kids with dyslexia:
Don't be afraid of the sloppy copy. All good writers first write a rough draft or sloppy copy. This helps to get the main ideas onto paper. Going over a paper a second (or third) time to edit for clarity, word choice, spelling and punctuation is a normal part of the writing process.
Practice, practice, practice. The best way to help your kids to get more comfortable with the writing process is to have them write each week. I have found that as a busy homeschooler, it is helpful to have kids take a writing class through your homeschool group, co-op or other community offering. Our kids have benefited from the attending an IEW class for the past 2 years. The level of writing that they are producing has vastly improved with these manageable weekly writing assignements.
Note on taking classes: If you are nervous about having your child take a class because of their dyslexia, this is an excellent time to teach them about self-advocacy which is one of the most powerful skills you can teach your student.
Talk to the teacher ahead of time about your child's reading, writing, spelling struggles.
Suggest and agree to any accommodations that your child will need. Accommodations for a writing class might include:

asking that there be no in class writing assignments
no reading out loud (unless they want to)
not marking off on any spelling done in class
Writing Curricula That Work Well With Dyslexia
Write Shop:  Every level from Kindergarten through High School taught in a systematic way that works well with kids with dyslexia.
Fortuigence: Essay Rock Star:  Online video classes with online teacher that corrects assignments and provides excellent feedback.  Read my review here.
Institute for Excellence in Writing:  Teaches writing in a step by step manner that is enjoyable for (at least my) kids.
As with reading and spelling, all kids with dyslexia can be taught to write and write well with the right methods!
What tips do you have for teaching writing to a child with dyslexia?