Just like with teaching reading to kids with dyslexia, finding the right resources and methods for teaching kids who struggle with math can make a tremendous difference in their learning.
The following 100+ resources are books, websites, games, apps, and curricula that teach math in a variety of multi-sensory ways that will provide effective tools for teaching math.
Some of the links below are affiliate links.  I earn a small commission when you purchase through these links.  Please know that I never recommend products that my own kids haven't benefited from. Thank you for your support of Homeschooling With Dyslexia!
Math Resources From Homeschooling With Dyslexia
Teaching Math to Kids With Dyscalculia Parent Class:  This is our 8th parent class and covers in depth the causes of dyscalculia, why some kids struggle, what signs you may be seeing, simple strategies and effective activities to do with your kids at home to improve their math sense.  Online video and downloadable audio formats with downloadable pdf for notetaking and access to our private Facebook group for class members only.  Learn more and purchase here.
Math Posts from Homeschooling With Dyslexia
10 Ways to Help Kids Overcome Math Anxiety
The Link Between Dyslexia and Dyscalculia
Homeschool Math Curriculum for Students With Dyscalculia
Books About Teaching Math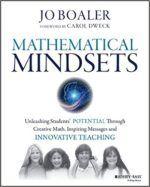 Mathematical Mindsets: Unleashing Students' Potential through Creative Math, Inspiring Messages and Innovative Teaching By Jo Boaler and Carol Dweck
Mathematical Mindsets provides practical strategies and activities to help teachers and parents show all children, even those who are convinced that they are bad at math, that they can enjoy and succeed in math. Jo Boaler—Stanford researcher, professor of math education, and expert on math learning—has studied why students don't like math and often fail in math classes.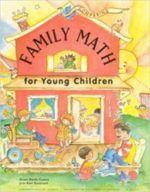 Family Math Books:  The FAMILY MATH books frequently are used and recommended by teachers to help families rediscover the fun and excitement in making mathematics discoveries together. With an emphasis on four-to-eight-year-old children, activities in the FAMILY MATH for Young Children book use commonly found items and bring family members together in the process of learning from each other.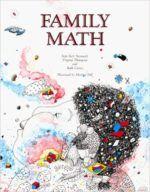 With over 300 pages of lively activities, the classic FAMILY MATH book represents one of the greatest strides taken to involve parents in the mathematics education of their children. Using easy instructions and simple objects such as beans, blocks, pennies, buttons, and string, parents, and kids solve problems together. For students in grades K-8.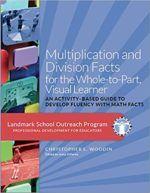 Multiplication and Division Facts for the Whole-to-Part, Visual Learner by Christopher Woodin of the Landmark School
This program utilizes semantic reasoning strengths, and a combination of whole-to-part processing and gross motor-kinesthetic therapies to compensate for deficits in working memory, expressive language mechanisms, and executive function. By establishing a strong conceptual base, students are able to learn, store, and retrieve facts accurately and efficiently apply them to solve problems.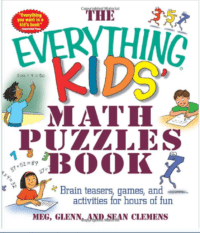 The Everything Kids Math Puzzles Book by Meg, Glenn, and Sean Clemens
Solving math puzzles stimulates thinking in a low-key way.  No tests, no lessons, just thinking and solving.  Fun for the whole family. BREAK BREAK BREAK
Web Sites About Teaching Math
Dyscalculia.org
Tons of resources and links for learning more about dyscalculia.
Understood.org
Search the Understood website for tons of information on dyscalculia, dyslexia and other learning struggles.
Woodin Math
Chris Woodin is a specialist in the fields of mathematics and learning disabilities. A graduate of Middlebury College and Harvard Graduate School of Education, he has taught extensively at Landmark School, where he holds the Ammerman Chair of Mathematics. This site is full of innovative teaching tips and methods.

Homeschool Math Curricula for Kids With Dyscalculia
Teaching Textbooks: (beginning in 3rd grade)  Like having the 'good' math teacher year after year.  Teaching Textbooks is computer based (no Internet required).  Each lesson is taught and followed by 5 practice problems.  Kids then work each lesson right on the computer.  Immediate feedback allows students to watch the solution to any incorrect answers – after 2 tries. Read my full review of Teaching Textbooks here.
Math U See: An uncomplicated, hands-on, time-tested program for teaching math. Children learn each mathematical concept by building it, writing it and saying it. Used with base 10 math manipulatives, many dyslexic children find success with Math U See. We use Math U See until 3rd grade and switch to Teaching Textbooks.
Right Start Math:  Another hands-on program that de-emphasizes counting, uses visualization of quantities, and provides strategies and visual pictures for learning the facts. Understanding and problem solving are emphasized throughout the curriculum. The primary learning tool is the Abacus, a specially designed two-sided abacus that is both kinesthetic and visual.
Touch Math: A highly visual, hands-on program designed for kids who struggle with math.
Shiller Math: A Montessori-based math curriculum that focuses on the multi-sensory learning of basic math concepts.
Resources for Learning Math Facts
Times Alive: Humorous, memorable stories and songs help kids remember their math facts with ease. Available as an app in both Android and Apple and as an online subscription for the computer or tablet. Read my complete review of Times Alive here.
Times Tales:  Times Tales is a creative, innovative mnemonic-based program that makes it fun and easy to memorize the upper multiplication facts.  Times Tales uses cute, simple stories to provide students with a "memory peg", allowing them to quickly recall otherwise abstract facts.
Math-It:  A wonderful, activity-based program to help your kinesthetic learner master the facts! A combination of mental math "tricks" (ie, to add nine to any number, count one back and add "teen") or shortcuts and hands-on drill.
Skip Counting Songs:  Skip counting has saved my older kids when they needed to know (but struggled to remember) their multiplication facts.
YouTube Channels for Teaching Math
Kahn Academy:  1000s of videos on every subject.  Also, visit the Kahn Academy website for more math videos.
Jo Boaler's Number Talks:  Stanford professor Jo Boaler demonstrates number talks and how to teach kids to decompose and recompose math problems to increase math sense.
Chris Woodin of Woodin Math:  Tons of creative, hands-on math teaching ideas from math expert, Chris Woodin.
Landmark School: Kinesthetic Learning:  Chris Woodin is an accomplished teacher in the world of students with language-based learning disabilities. With a Masters in Education from Harvard Graduate School, Chris Woodin has brought innovative kinesthetic learning techniques into the lives of Landmark students. Kinesthetic learning is based on doing rather than observing.
Parent Teacher Education
How to Learn Math is Stanford University's Jo Boaler's class on teaching math.
Maths Explained   Video tutorials to help with dyscalculia and math difficulties.
Math classes from Triumphant Learning Video course that teaches hands-on activities for learning math facts.
Math Puzzles and Games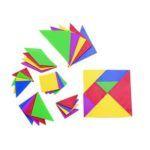 Tangrams
Explore shape, size, comparison, spatial reasoning, patterns and designs using these brightly colored plastic geometric puzzles.
Wooden building blocks
Studies show that kids who played with building blocks as young children did better with math throughout their entire school career!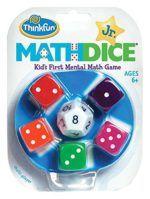 ThinkFun Math Dice Jr:  Kid's First Mental Math Game
Simple rules and chunky, brightly colored dice make this game fun for early math learners.
ThinkFun Math Dice:  The Fast Fun Game of Mental Math (for older kids)
Players try to get closest to the target number by creating different equations using addition, subtraction, multiplication, division, even powers.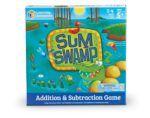 Journey through the swamp by adding and subtracting numbers on the dice.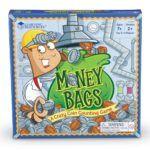 For ages 7+. Includes plastic coins and paper dollars.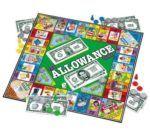 Perfect for teaching kids to identify money values, add & subtract money and more. For ages 5-11.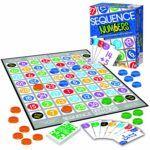 The cards have the equations….the game board has the answers. Each card has an addition or subtraction equation. Match a card to its correct answer on the board, then place your chip there. Groups of numbers are color-coded to help with number recognition.
Math Card Games
All three of these games are easy to learn, fast-paced, and encourage flexible thinking – a foundational skill for success with math.
Math Manipulatives
Kids who struggle understanding math concepts benefit tremendously from the hands-on learning provided by using 3-dimensional manipulatives when learning math.
Using manipulatives makes it easier for kids to discuss their math thinking, encourages them to ask questions, enables them to understand concepts, find multiple ways to solve problems, and helps them to demonstrate their new knowledge and skills.
You can use low-tech items such as beans, coins, buttons, and Legos.  There are a ton of fun and affordable math manipulatives available along with teaching resources.  Here are some of our favorites:
Transparent Color Counter Chips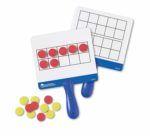 And Magnetic 2 sided counter ten frames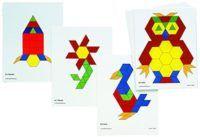 Base Ten Blocks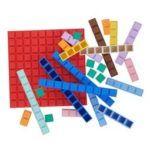 Math U See base 10 blocks are the best because the different numbers have different colors
Less Expensive Options for Base Ten Blocks
A physical representation of fractions as parts of a circle helps students to recognize equivalences.
Individual sized laminated 100s charts
100s Chart Teaching Activities
30 Things to do with a 100 chart
More 100s Chart Teaching Ideas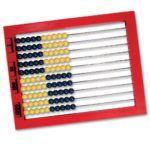 See this informative post on how to teach math with an abacus.
Cuisenaire Rod Teacher Resource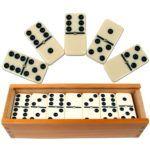 Card Games for Kids (book)
Edible Math Manipulatives
M&M's
Skittles
Dry cereal
Chocolate bar for fractions
Word Problem Resources
Math Word Problems from Critical Thinking Press
Math Story Books
Apps for teaching math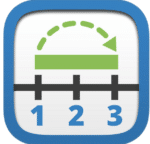 Number line app from Math Learning Center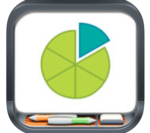 Fractions app from Math Learning Center
Operation Math (iOS $2.99, Android $1.99) This app turns your students into spies who travel around the world on different missions. Kids can choose which operations they want to practice as they make their way through the app.
Number Frames (free for iOS, Chrome, and other web browsers) The Math Learning Center has lots of great resources for students, including interactive math tools to help students practice skills. With this tool, students explore the relationships between numbers as they represent each operation with virtual manipulatives. This free app gives kids the space to build a foundation that makes math fluency practice most meaningful.
Sushi Monster (iOS free) Scholastic's app offers children multiplication and addition problems. They have to reach a target number by picking the correct factors and addends listed on different pieces of sushi.
Quick Math – Arithmetic & Times Tables (iOS $1.99) With this app, kids answer traditional skill-and-drill questions—but they don't have to enter answers using a keypad. Instead, they can write the answer anywhere on the screen of their device, and the app reads their handwriting and records their response.
Number Line (free for iOS, Chrome, and other web browsers) This mobile and web app is perfect for helping students model their thinking as they explore different operations.
Pet Bingo by Duck Duck Moose (iOS $1.99, Android $1.99) In this game, children answer addition, subtraction, multiplication, or division questions and place their answers on a bingo board. The app is full of colorful cartoon characters and offers visual models to help students understand each problem.
Meerkat Math HD (iOS $1.99) This adventure app asks students to complete different races using math facts. In order to make their meerkat avatar run and jump fast enough to be a winner, they have to answer each question quickly and correctly.
10monkeys Multiplication (iOS $1.99, Android free) Kids can practice multiplication facts with this animated app. The goal is to help monkeys trapped in a tree escape by answering a set of questions correctly. This app is broken down into different times tables and includes a reference chart so kids can review facts.
Math Vs Zombies (iOS $4.99, Android free) This silly app asks children to add, subtract, multiply, or divide one- and two-digit numbers. Students need to answer each question correctly in order to zap the zombies back into humans.
YodelOh Math Mountain (iOS $2.99, Android $1.99) A virtual take on a traditional carnival game, this app helps children practice all four operations. They have to work quickly so that the yodeler doesn't fall from the top of the mountain.
Karis Math Online, highly visual math games that promote math sense.
Duck, Duck, Moose  A variety of free, award-winning educational apps
Apps that teach about time:
Talking Clocks
Chrome Apps and Extensions
Here are six Chrome apps and extensions to check out. (Extensions add functions to the Chrome browser.) They can be used on Chromebooks or on any device with a Chrome browser. The best part? They're all free.
Simple Chrome Calculator opens in a pop-up window in Chrome. It can do basic arithmetic, but it also has many advanced functions, like exponents, logarithms, and sine, cosine, and tangent. It requires kids to use a mouse or trackpad to click on buttons—they can't type in math problems. If your child prefers to type in math problems rather than click, she may want to try the official Chrome calculator tool.
Cloudy Calculator also opens in a pop-up window. It's a flexible tool that kids can use for many different math problems. If they type in words ("five times five") the answer will be in numeral form. Kids can create their own variables and even get basic facts like the population of a city.
Search engines like Google can also do these things. But this tool gives simple one-line answers that are stored in the tool's history. This way kids can access them for further calculations. Kids can also enlarge text and change fonts. To learn how to get the most out of this tool, kids should review available commands by clicking "Help."
gMath is an add-on for Google Docs, the word processor for Chrome. With gMath, kids can type out or dictate math problems or equations. They can also insert graphs and statistical charts, and create drawings. These tools can be useful for kids who need to show their work. Kids can also print out or save their Google Doc, along with the math work they've done.
Graspable Math opens in a sidebar window in Chrome. It lets kids manipulate math equations. Kids can pull equations from websites, or type in their own. Then with special click commands, they can move, combine and separate the numbers and variables. (This can be especially helpful for kids who struggle with handwriting.)
The tool can also do basic math like adding and subtracting. That includes math problems with fractions. It can also be used with equations that have powers and exponents. Each command has an accompanying video on the Graspable Math website that shows how it's used.
The Math Learning Center has 10 stand-alone Chrome apps for math manipulatives. These are virtual objects like number lines and blocks that kids can manipulate to understand math concepts.
Each of these apps opens in a separate Chrome window. The apps include fractions, money pieces, number lines and more.
Wolfram Alpha is a powerful computation engine. Kids can type in math problems, definitions, and equations. The tool will do the computation and give detailed answers in a new tab. For example, if kids type "calculate the area of a circle," the tool will bring up a formula where they can input the radius and get an answer. The Pro version will show a step-by-step solution for the problem.
Search engines like Google can also compute answers and give formulas. But this tool does it without giving all the search results, which can be distracting.
Price: Free (Pro version for students is $4.95/month)
Assistive Technology
FX MathPack (includes FX Draw, FX Equation, FX Graph and FX Stat): $65 (Mac or Windows)
Includes: math notation, graphing tool, and drawing tool
With the math notation:
FX Equation lets kids write out equations very quickly. Kids can type in the equation using their keyboards. They can also easily insert the equations they create into Word, PowerPoint, and other programs.
With the graphing tool:
Kids can type out an equation and plot it or draw various lines and curves directly on virtual graph paper. They can then print out the results.
Kids can also view the plot in 3D, add math notations, shading and notes to different sections.
(You can also buy the individual programs separately.)
Geogebra:  Free (Mac or Windows)
Calculator, graphing tool, drawing tool, equation solving tool
With the graphing tool:
Kids can plot the path of equations. There are many options for viewing and annotating the plotted graphs.
With the drawing tool:
Kids can draw lines, points, shapes and other features. When they do, the program gives the corresponding equation.
With the equation-solving tool:
The program has a simple equation solver. By clicking on an equation, kids can solve for one or more variables.
Kidspiration: $39.95 (Mac or Windows)
Virtual manipulatives, graphic organizers
With the virtual manipulatives:
Aimed at grade-schoolers, this program has several sets of virtual objects. These include fraction tiles, base ten blocks and more. After kids use the objects, they can save their work as image files.
With the graphic organizers:
The program has a "Step Workspace" that lets kids show and explain their steps as they do math problems. Kids can add as many steps as they need.
MathTalk:  $295 (Windows)
Math notation and dictation
With the dictation:
Kids can dictate math symbols and equations. They can use their voice to type out everything from pre-algebra to high-level calculus.
MathTalk requires that a computer has Dragon (formerly Dragon NaturallySpeaking) installed, as well as the program Scientific Notebook (which is included with the software).
MathType: $57 for students (Mac or Windows)
Math notation program.  By typing out or clicking on commands, kids can generate complex math equations using thousands of symbols.
MathType can handle advanced math like derivatives, statistics, and matrices. Once kids type out their answers, they can print or save and email their work.
Matti Math: $29.95 (Mac or Windows)  (The tools in this software are also available for free online at the National Library of Virtual Manipulatives.)
Kids have access to dozens of virtual objects like number lines, pie charts, algebra balance scales and more to help them understand math concepts.
Assistive Technology Finder
Visit this Assistive Technology Finder on the amazing Understood website.
Graph paper – with larger boxes
Graphic organizers to help with math – free printable from Understood.org.
Online Math Resources
Basic Math Resources
AAA Math has numerous interactive arithmetic lessons. Topics covered include addition, counting, comparing, decimals, equations, estimations, graphs, fraction, multiplication, and more. You can also sort topics by grade level, starting in kindergarten and ending with eighth grade. 
Aplus Math caters to grades K-12 so you will find a wide variety of math topics here. The site has flashcards, games, homework help, and practice worksheets.
Math Reference Tables covers general math, algebra, geometry, trigonometry, and above. Its general section includes number notation, addition, multiplication, fractions, and units and measurement. This site can also be translated into Spanish!
Elementary Mathematics is organized by grade level (K-5). Each grade has different math activities specifically targeted to that age group. Grade 1, for instance, includes information on addition, subtraction, estimating sums, fractions, and much more. Grade 5, on the other hand, has info on measurements, graphs, angles, and dispersion.
KidZone Math offers helpful math resources in fun, kid-appropriate formats. A range of free, printable worksheets is available, organized by grade level, activity type, and theme, allowing kids to find a worksheet that suits them best. In addition, this site provides timed quizzes on addition, subtraction, and multiplication.
Math Arcade has a plethora of games for kids kindergarten to eighth grade to practice their math skills. The site includes addition, subtraction, fractions, division, and much more.
Math is Fun! as evident from its name, attempts to present math to kids as an enjoyable, interactive subject. Simple explanations are supplemented by practice problems in the following topics: numbers, algebra, geometry, data (mean, median, mode, surveys, tables), and measurements. Also included are puzzles and quizzes, as well as an elaborately illustrated dictionary of basic math terms.
Multiplication.com focuses, as one may expect, exclusively on multiplication. The site features games, self-correcting timed quizzes, resources, and instructional videos. This is a great site for any child struggling with multiplication tables.
Educational Math Games Online
Cool Math Games tests younger kids' math abilities in a variety of challenging ways. Find games that will strengthen different skills useful in math, such as numbers, strategy, logic, and memory.
Funbrain is a fun resource for kids, kindergarten through eighth grade. At funbrain, you can challenge your math knowledge playing enjoyable games like math baseball or by visiting the math arcade.
Math Playground allows you to explore many levels of math in many fun ways. Try practicing your Cartesian coordinates by saving the Zogs or guiding the gecko through a vast land of fractions.
Online Math Learning allows for kids to test different math skills in ways that will make them feel like they're playing video games rather than being forced to learn. This resource is conveniently organized by subject, and has games for preschool kids all the way up to high school kids.
Online Algebra Resources
Algebasics has video tutorials explaining the basics of algebra, equations, ratio and proportion, absolute value, polynomials, factoring, linear equations, radicals, applications, and much more.
Algebra-Class.com offers help with solving equations, graphing equations, writing equations, inequalities, functions, exponents and monomials, polynomials, and the quadratic equation. It also has a list of resources.
Algebra.help contains lessons on topics that include equations, simplifying, factoring, distribution, and trinomials, as well as equation calculators and worksheets. This site also has an extensive list of math resources and study tips. 
Algebra Help covers topics such as fractions, percents, decimals, algebraic expressions, addition, multiplication, and word problems. Each section includes explanations and examples.
College-Cram.com allows students to choose the algebra subject they are struggling with from a drop-down menu, select the appropriate chapter, and pick your resources. The pages will feature formula solvers, bottomless worksheets, flashcards, quizzes, interactive overviews, and brief lessons and study sheets.
Interactive Mathematics has a large section on algebra, including information on factoring and fractions, the quadratic equation, exponents and radicals, systems of equations, matrices, and determinants, and inequalities.
Math Expression has videos, worksheets, and lessons to help you develop your algebra skills. Math topics include algebra, exponents, symmetry, fractions, measurements, angles, and more. The site also includes a list of useful resources.
Online Geometry Resources
AAA Math: Geometry: This site includes basic geometry facts and calculations, as well as instructions for calculating the area, perimeter, circumference, surface area, and volume of various shapes.
Class Zone: Class Zone is a fantastic site for any geometry student. It covers proofs, basics of geometry, quadrilaterals, transformations, circles, surface area and volume, and much more.
Discovering Geometry: Discovering Geometry has explanations, condensed lessons, practice sections, a guide specifically for parents, and student Web links.
EdHelper.com: Looking for free, printable geometry worksheets – with optional answer keys – for both middle school- and high school-level geometry? This site is the place for you!
Elementary Geometry Resources: Elementary Resources splits up their resources by grade level from grades 1-5. Lessons vary drastically by age level, but all are easy to understand and should help any struggling geometry student.
Learning Math: Geometry: The geometry of Learning Math has information for students and teachers K-8. Video tutorials cover topics such as triangles, polygons, geometry basics, dissections and proofs, and the Pythagorean theorem.
Math League: The geometry section of this website is perfect for anyone desiring straightforward explanations for concepts under the following categories: basic terms, angles, figures and polygons, area and perimeter, coordinates and similar figures, and space figures and basic solids.
SparkNotes: Contains everything you need to know about geometry proofs: terms, the structure of proofs, sample problems, and more.
Online Trigonometry Resources
Dave's Short Trig Course: Easy to navigate, this site has a table of contents containing sixteen different topics, including applications of trigonometry, angle measurement, chords, sines, cosines, tangents and slope, right triangles, trigonometric functions, and the area of a triangle. All sections contain in-depth explanations as well as graphs and diagrams.
S.O.S. Mathematics: Trigonometry: This site is equipped with detailed explanations and examples of angle measures, trigonometric functions, and trigonometric equations. In addition, there is an entire section devoted to solving equations, with sample problems and solutions. A table of trigonometric identities is also available as a helpful reference.
Trigonometry Help is a comprehensive resource for students of trigonometry, complete with detailed descriptions of basic terms (including types of angles, laws, and formulas), lists of trigonometry identities, tips for picking a tutor, and even a brief history of the subject.OnlPre-Calculus Resources
CliffNotes: Pre-calculus contains detailed explanations of the following topics: relations vs. functions, combining and composing functions, inverse functions, factoring polynomials, quadratic equations, exponential functions, and logarithmic functions.
Graphing Calculator Help part of Prentiss Hall's website, allows you to select your brand or model of calculator, and then offers instructions on how to perform many different operations on that specific calculator.
Texas Instruments: Equipped with tutorials on graphing calculators, explanations and practice problems on a range of concepts, test preparation advice, and more, this site is sure to be an invaluable tool for any student of pre-calculus – or, indeed, any level of math.
Tulyn: Math For All is designed to aid the pre-calculus student through video tutorials, worksheets, and word problems. This site also contains discussions, allowing students to both ask and respond to questions.
Online Calculus Resources
Calculus Help presents explanations for topics ranging from the chain rule to integration by parts.
Calculus-Help.com contains tutorials with audio clips on limits, continuity, and derivatives. This site also offers sample problems and other calculus tips.
The Calculus Page offers problems with step-by-step solutions, as well as information on derivatives, exponents, and logarithms and a glossary of terms.
S.O.S. Mathematics: Calculus provides detailed descriptions for the following topics: sequences, series, limit and continuity, differentiation, integration, techniques of integration, local behavior of functions, Power Series, and Fourier Series. Numerous examples and sample problems are included.
Visual Calculus: This site contains explanations, tutorials, and animations covering the following topics: limits and continuity, derivatives, applications of differentiation, integration, applications of integration, and sequences and series.
How about you?  What are your favorite math resources?