Tips, tricks, curriculum and other resources for teaching homeschool math to students with dyslexia.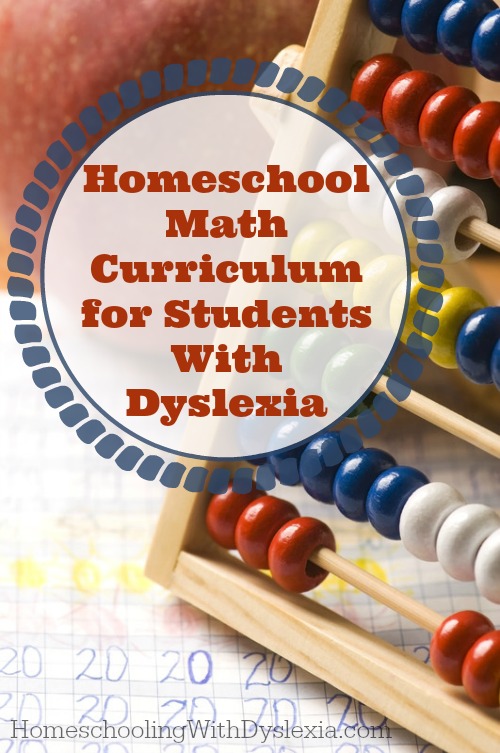 Welcome back to our series on how to find the best homeschool curriculum for your students with dyslexia.  So far we've covered the ways that dyslexics learn, Reading Curricula that work, Writing Curricula that work, and Spelling Curricula that work.  To read this series from the beginning, click here.
I hope you are feeling encouraged that with the right resources and methods, you can eliminate or lessen many of the daily struggles your kids are having to learn.
There is great FREEDOM and FLEXIBILITY in homeschooling which is WHY homeschooling kids with dyslexia is such a great option.
How to Teach Math to Students With Dyslexia
Like with teaching a dyslexic student to read, any math program that you use, needs to be multi-sensory with lots of review. What works for one family may not work for all families.  Have you been thinking over the past week about what curricula you have been using and noticing areas that you can change?
To better understand the difficulties that dyslexic kids can have with math, I recommend reading the following posts on the subject:
The struggles that dyslexic kids have with math is also referred to as Dyscalculia.  Read this post to better understand the signs of dyscalculia and ways to help you child.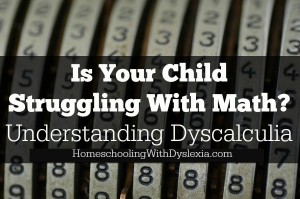 More tips and tricks for teaching math.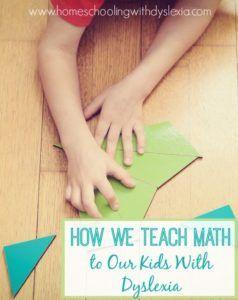 Homeschool Math Curriculum
Right Start Math  A math program using an abacus.  Many parents of dyslexics have found success with this program that works by level rather than grade so that your kids can start at there current level and work there way through all material at their own pace.
Jump Math  Based of research and designed for use in the schools, many parents of dyslexics have success with this program.
Math U See  Hands-on and multi-sensory, this program was designed for homeschoolers and is one that we have used for over 15 years with great success.
Teaching Textbooks  Teaching Textbooks is a computer-based program that begins in the 3rd grade.  Lectures are presented with practice problems.  Answers are entered by the student right into the lesson and corrected immediately.  If the student misses the problem twice, he or she can opt to watch the solution.   This program has been very helpful in our late family homeschool, freeing up much of mom's time spent teaching. Read my complete review of Teaching Textbooks, here.
Life of Fred  Teaches kids to think mathematically using the story of a bay, named Fred, who experiences the need for math in his daily wanderings.  Funny and anything but boring, this helps many kids to begin to actually enjoy math.
Other Resources for Teaching Math to Kids With Dyslexia
The programs listed below are all programs with positive reviews from families with dyslexic kids.
Great site with ideas for making your own math manipulatives – Math Cat.
Free math (and other subjects) printables – Sparklebox.
Times Tales  Teaches math facts by creating silly (and memorable) stories with the numbers as the characters. Downloadable or DVD based video options available.  Our kids love this program! Read my review here.
Sing 'n Learn   Web site full of audio resources for use in all subjects.
Helpful Web Sites for Help With Math
Chris Woodin – Landmark School  Chris Woodin has a lot of hands on ideas for understanding math concepts.  Lots of information on math and the right brain learner.
Donna Young  Lots of free, printable math sheets.
Kahn Academy  Millions, yes millions, of educational videos on every subject from Math and Science to Computer Science and Test Prep.  Excellent resource for when kids don't get it.
How about you?  What methods or curricula have you used with success in your homeschool?
Take a Class
If you are looking to get educated about dyslexia and how to educate, encourage and empower your kids with dyslexia, you have come to the right place.
For more information on getting started homeschooling your child with dyslexia, consider downloading my free ebook, Homeschooling With Dyslexia 101,  that covers things like understanding learning styles and teaching methods, how to create a positive learning environment and schedule, or how to set goals and get it all done.

Connect With Us!
This site was created to be a place for families who chose to homeschool their dyslexic kids to share there successes and failures and to offer encouragement to one another.  Please consider dropping by the Homeschooling With Dyslexia Facebook Page and being a part of our community!
Never Miss a Post!