Teaching spelling to kids with dyslexia is similar to teaching reading with a few important differences.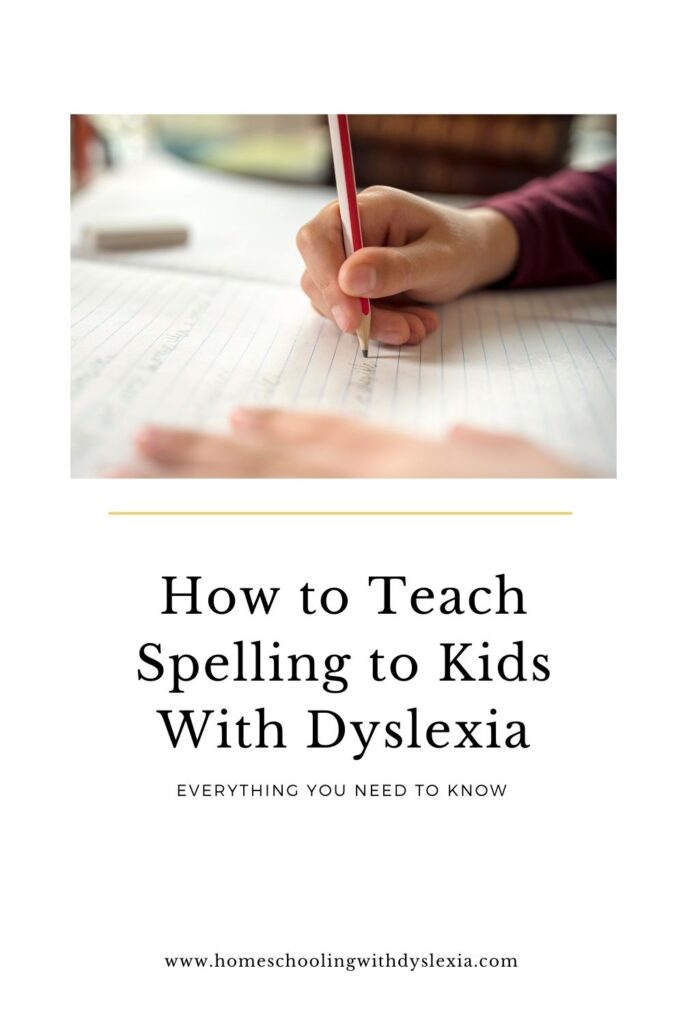 I have written a lot about teaching reading to kids with dyslexia but not as much about spelling. I also get a lot of emails from parents concerned about their kids' lack of spelling skills. This post will address both how to teach spelling and what to expect as you teach spelling to kids with dyslexia.
Understanding Spelling and Dyslexia
In my training to become a certified Orton-Gillingham dyslexia tutor, we were taught to teach our students to decode (read) and encode (spell) in a single session.
Most dyslexia-friendly reading programs designed for use at home come with a spelling component as well. The only exception is the All About Reading curriculum which separates reading and spelling. I actually really like this and here is why.
Learning to read is much easier than learning to spell. The strategies used to decode words are different than those used to encode words. For example in reading, just knowing that 'ee' says the long e sound is enough to decode a word. But in spelling, translating the long e sound can be done using 'ee', 'ea', 'e', 'e-consonant-e', 'ie', 'ei', or 'y'.
And for our kids with dyslexia who have difficulty remembering these patterns and rules, spelling can take a firghteningly long time to learn. I say frightening because this lingering lack of mastery is often disheartening for many homeschooling parents who feel a responsibility to teach their kids to spell.
It's important to understand that spelling can take a long time to master and to be generous in your use of accommodations and assistive technology with spelling as our kids get older.
This is similar to using a math facts chart or skip counting with math facts which are also extrememly difficult to master for students with dyslexia. This is NOT cheating. In fact, these kinds of accommodations often turn out to be remediation because they provide more practice and exposure to the correct spelling (or math fact) which is exactly what ur kids need. For example, if your child looks up 5×5 regularly to complete their math assignment, they will eventually remember that 5×5=25.
Okay but how do we teach spelling to kids with dyslexia?
The short answer is that you teach spelling the same way you teach reading.
Unlike most traditional spelling curriculum, an effective spelling curriculum teaches each rule explicitly. In the Orton-Gillingham approach to teaching reading and spelling, there is a sequence to teaching each spelling rule beginning with short vowel sounds and closed syllables and moving the the long vowel sounds while adding in the additional syllabication rules.
There is no need for me to outline this sequence because publishers have made this job easier for us by producing curriculum that does that for us.
Spelling instruction should:
be directly and explicitly taught. Leave nothing to guesswork – all concepts should be clearly taught.
be incremental and sequential starting with the most basic spelling skills and building on that in a logical order.
be multi-sensory. Short term memory weaknesses in the dyslexic mind make remembering spelling rules difficult. By accessing information via multiple senses (multi-sensory) we are using more areas of the brain and have a greater likelihood of remembering what was taught.
provide continual review. Remember, dyslexic students need to overlearn reading and spelling rules. This is accomplished through lots and lots of practice.
My favorite spelling curricula for dyslexia
Written by the same people who created the Orton-Gillingham based reading curriculum, All About Reading, this program contains all of the elements of an effective spelling curriculum. An 'open and go' program that makes teaching easy with little teacher prep required.
Some families benefit from the simple, example-based methods of Sequential Spelling. It works along the lines of practice, practice, practice. If you are teaching spelling to multiple ages or if your child is resistant to All About Spelling, this program is worth a try.
Reading programs that contain a spelling component
Visit this post of my favorite Orton-Gillingham dyslexia programs for more information about each of these programs including reviews etc.
Things to remember when teaching spelling
Teaching spelling to kids with dyslexia is unlike teaching spelling to traditional learners. Remember the following three things to make your experience more enjoyable and efficient.
Be consistent – daily review is important for making the rules stick.
Be flexible – if the lesson in your spelling curriculum takes too long or covers more than your child can handle in one lesson, break it up into several days.
Practice, practice, practice – build words with letter tiles, write them in notebooks, write them from dictation. Review is necessary for the rules to stick.
Don't shy away from assisitve technology. If your dyslexic kids are anything like mine, they will grow up and use assistive technology for spelling anyway. Teach them how to use it and be thankful it exists!!
More posts about spelling and dyslexia
Homeschool Spelling Curriculum for Students with Dyslexia
Best Spelling Apps for Dyslexia
How to Teach Students With Dyslexia to Use Assistive Technology
The Truth About Dyslexia and Spelling