The public schools in our area are heading back to school this week.  We're heading to the beach since there is a heat wave here in Southern California.  This is definitely one of the perks of choosing to homeschool – sweet freedom!
I encourage moms to take full advantage of the many homeschool freedoms we enjoy, but I will be honest – I am in full back-to-school prep mode over here.
I thought some of you newer homeschool moms would enjoy hearing what that looks like in our home so today I'm sharing my best back-to-homeschool survival tips.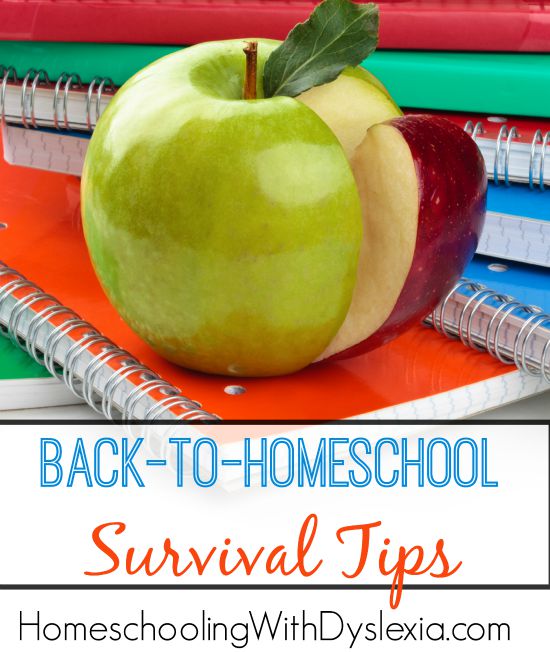 We talked quite a bit last week about homeschool planning.  Planning includes:
Making schedules that work, and
Finding time for what is really important in our homeschool
If you're still looking for good curricula, here are some of my tips for that:
Back-to-homeschool Survival Tips
Planning and curriculum are important, no doubt, but there are practical things that moms who know will tackle before officially starting school, whether you choose the traditional school schedule or choose to wait like our family.
Stock up.  We have a fairly large family. Of our 8 kids, 6 still live at home and 5 are still homeschooling.  We're home a lot and that means we go through a lot of food, toilet paper, and school-type supplies like paper, pencils, binder, and notebooks.  I take some time before our first day of school to take note of what we're low on and go to Costco to stock up.  Some things that I buy:  basic food staples like milk, butter, lots of bread, cheese, and a few frozen convenience foods for when it is just one of 'those days'.  I also stock up on paper, pencils, and printer cartridges.  Oh yeah, and check to be sure your preschooler hasn't wedged a crayon into the electric pencil sharpener!
2. Clean up the house.  Take some time and enlist the help of your kids to do a big house clean.  We unclutter bookshelves and cabinets, dust and sort through toy bins and even move the couches and just give the house a good scrub.  My mind focuses better when the house is tidy and I imagine that our kids' minds will too.  If this is not a strength for you, consider what one of my long-time homeschool friends does – she hires a cleaning lady four times a year to clean her house.  Great idea!
3. Clean up the school room or area.  We haven't had an official schoolroom for years.  We keep turning our homeschool rooms into bedrooms!  We primarily do subjects like memory work, Bible study, and read-alouds in the living room on the huge comfy sectional that lives there.  We sit at our dining room table for seatwork like reading instruction, math, and handwriting.  Our older kids use the computer for some of their subjects.  A few years ago, my husband built a long wall-to-wall desk in our home office to house a row of kids' computers for our homeschool.  Before starting school I like to clear out the dining room cabinet that stores most of the kids' daily school work and that office space that tends to gather a TON of unneeded supplies, books, and miscellaneous 'stuff'.
4. Organize curriculum.  Once the school room, or in our case, the school areas, have been decluttered and cleaned, I move in this year's curriculum and supplies into place.
5. Begin talking to the kids about the school year.  A lot of the things on this list I do while the kids are playing or having quiet time.  Once I've finished the bulk of my prep work, I start to talk to the kids about school.  What are they excited about?  What are they not looking forward to?  What plans do we have?  These conversations begin to prep their minds for the coming change in schedule and help me to know where they are in their thinking.
6. Ease in slowly.  This is HUGE!  Perhaps I should have put this at the top of the list but my linear, logical brain felt it fit better down here.  I know you guys will understand.  🙂 We NEVER start the first day of school with every subject.  In fact, depending on the year and the ages and stages of our kids, we may only start with one subject and focus on establishing our morning routine.  We usually start with Math, add Reading, and more when the schedule can handle it.
7. Have some fun!  Consider creating a fun family tradition to kick off the new school year.  Lots of families take a first day of school photo.  Others have a delicious breakfast with family food favorites. This year we are taking a field trip to the Science Museum and watching an IMAX movie on our first day of school.
What are your best back-to-homeschool tips?  Please share in the comments below!