It has been a while since I shared what a day in the life of our homeschool with dyslexia looks like. For years I have shared these kinds of posts to show how we juggled the needs of a houseful of dyslexic kids. Today, our dynamic looks a lot different.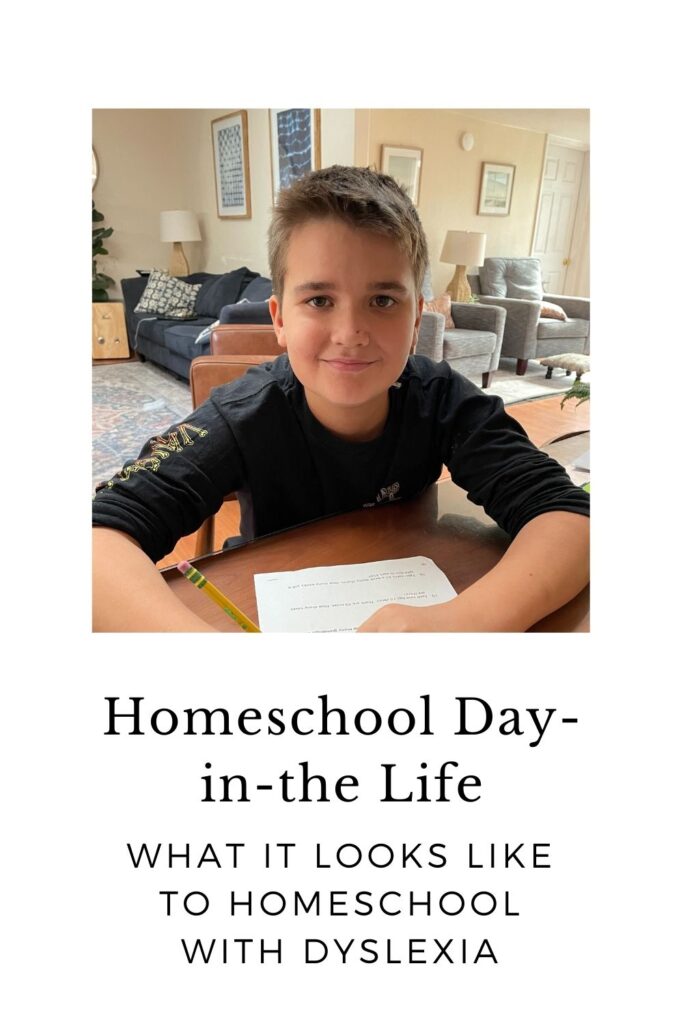 Who We're Homeschooling
These days I am homeschooling 4 kids, 3 with learning differences – ages 17, 17, 14, and 11. They range from mild and mostly remediated dyslexia to profound dyslexia, dysgraphia, and ADHD. One of these four is my only child who isn't dyslexic and is largely independent and self-motivated. 
So while I don't have babies and toddlers anymore, I do spend my early mornings and some afternoons working on this site – so you could say this website is my baby!
One new twist is helping my adult kids with dyslexia with a variety of things. My adult kids are very entrepreneurial and, not surprisingly, have a lot of vision, but still have some difficulty with details, paperwork, etc.
A Typical Day in Our Homeschool
I get up early to take care of the baby/blog and spend some quiet time reading and praying. I could not do what I do without my faith guiding me!
I'm usually up between 5:00 and 6:00 am and spend time working and praying. I make a big pot of coffee and work until my boys (ages 14 and 11) make an appearance. I've tried to have a more set schedule, but none of us operate well with rigid time schedules. We all wake up when we're rested and start the routine at whatever time that happens to be.
I prefer routines that help us all to know the order of the day.
You can learn more about how I try to establish a homeschool rhythm here.
This post shares how to find a homeschool schedule that works for your family.
For example, the boys know that the flow of our day is essentially this –  coffee and quiet, chores, school, then free time, then screen time later in the afternoon. Having an expected routine helps so much with expectations and resistance. Being consistent with this routine greatly simplifies our days. 
Some days I leave the kids for an hour while they are doing their chores and morning routines and go to the gym where one of my adult kids has been walking me through a strength training routine. Honestly, after so many years with little kids around me all day, some days I am just in awe of the freedom my schedule has these days. 
Fostering Independence
To help my kids stay on track and nurture independence I've been using these planners to write down their daily chores and independent school work. One of my main goals in the middle school years is to help my kids become more independent.
I am a big fan of the 'I do – we do – you do' approach to teaching by modeling for my kids. Since kids with dyslexia do better when they are taught explicitly how to do things, I use this method to show them exactly how to do a certain task. Next, I work alongside them to do the task, and lastly, they do it on their own with me inspecting what I expect.
An example of this is with their planners. I started by filling them out daily. After a few months, I sat with them and had them fill out as much as they could. I have them verbalize what their thinking is and am able to assist where needed. Eventually, they should be able to fill out their planners – even on a weekly basis – to keep track of their assignments, activities, and chores.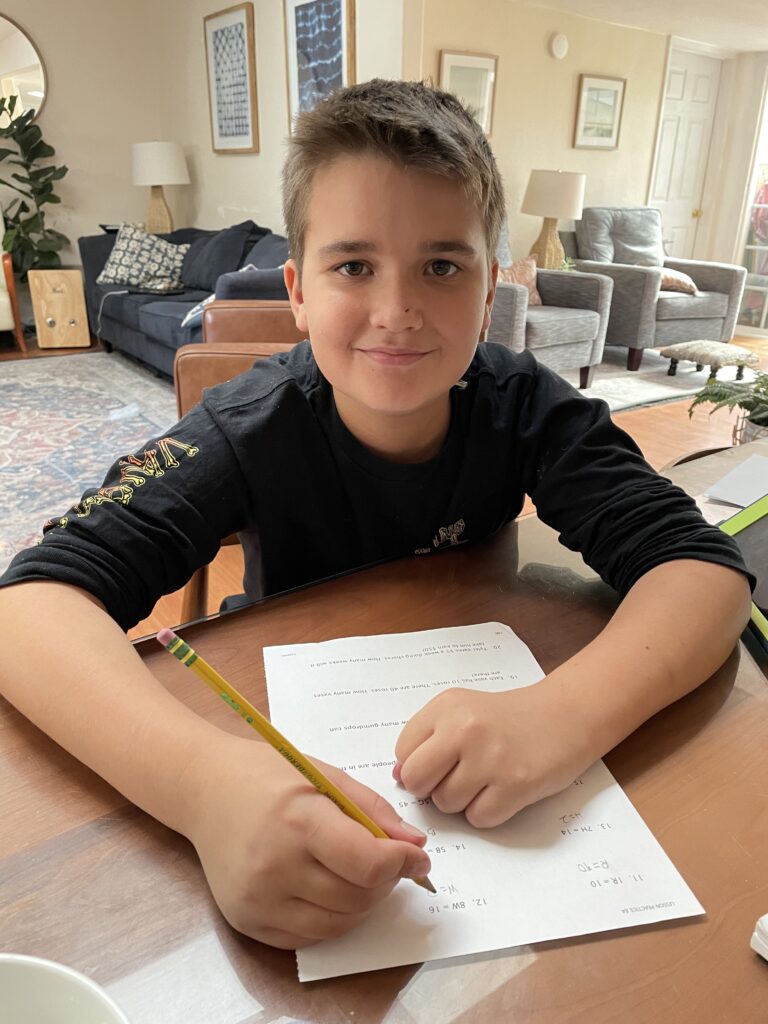 Chores
Since I've mentioned chores a few times I'll just note that I am a huge believer in having my kids help as much as possible around the house. Born out of a strong need for this help while raising 8 kids, we have continued to have kids cook, clean, care for animals and the garden/yard, do laundry, wash the car, etc. Doing chores keeps them busy, activates large muscle groups (good for ADHD), helps mom, and offsets entitled attitudes that creep in despite our efforts to avoid them.  Hello, middle school!
Screen time
Since limiting access to screens more, my boys are way more active outside and also way more eager to complete their school work for the day. In some ways, I have loosened up about screen time and in others have become more strict. I'll write more on this soon, but for now we try to balance screen time with other things just like all of you!
Academics in Our Homeschool
We have finally arrived at the place where my kids can do some school work independently. Yes, you will get there even though it may not seem like it! Our current independent work for the 11 and 24 year olds includes:
a page of cursive handwriting practice
a page from their grammar book
a page of their Mindset Journals
20 minutes of quiet reading
Here's what we're liking right now:
Cursive workbooks. There is nothing special here. The style of cursive you choose is up to you. If you prefer something more simple, see the Italic Handwriting Series linked below. Otherwise, consistent practice is the main thing with teaching cursive. To learn more about why I recommend teaching cursive, read this. To learn how I teach cursive to kids with dysgraphia (handwriting struggles) read this. To learn more about dysgraphia, read this.
What we're using now:
Other handwriting programs we have liked:
Grammar: Grammar is notoriously missing in our kids' writing. They don't naturally see the need for punctuation. After trying every method on the planet for years, I have settled on these inexpensive workbooks for 5-10 minutes of daily practice and review that requires very little help from me! Don't be afraid to start them on a lower level so they can gain confidence and learn the basics first before moving them to a grade-level book. Just teach them at their level of understanding and ability.
Daily Grams: teaches and reviews a lot of the basic punctuation and grammar rules.
Math review. If you've been around here for long, you know that we are die-hard Teaching Textbooks Math fans. It is truly like having the good math teacher every year.
That being said, there are times when my kids need some hands-on practice. So I supplement with Math U See worksheets at whatever level they are struggling with. Their fraction manipulatives are the best I have ever seen for making these concepts more concrete and understandable.
Mindset journals: I bought these a while ago, but my boys were not independent enough or interested enough to complete them. This year that all changed and, wow, they are learning a ton about mindsets, attitudes, and practical ways to think about life in more positive ways. Can't recommend these enough!
Big Life Journal Mindset Journals
Quiet reading
I require 20-30 minutes of quiet reading everyday from my 11 and 14 year olds.
My boys have been loving the History Smashers series lately. For more graphic novels my kids love click here.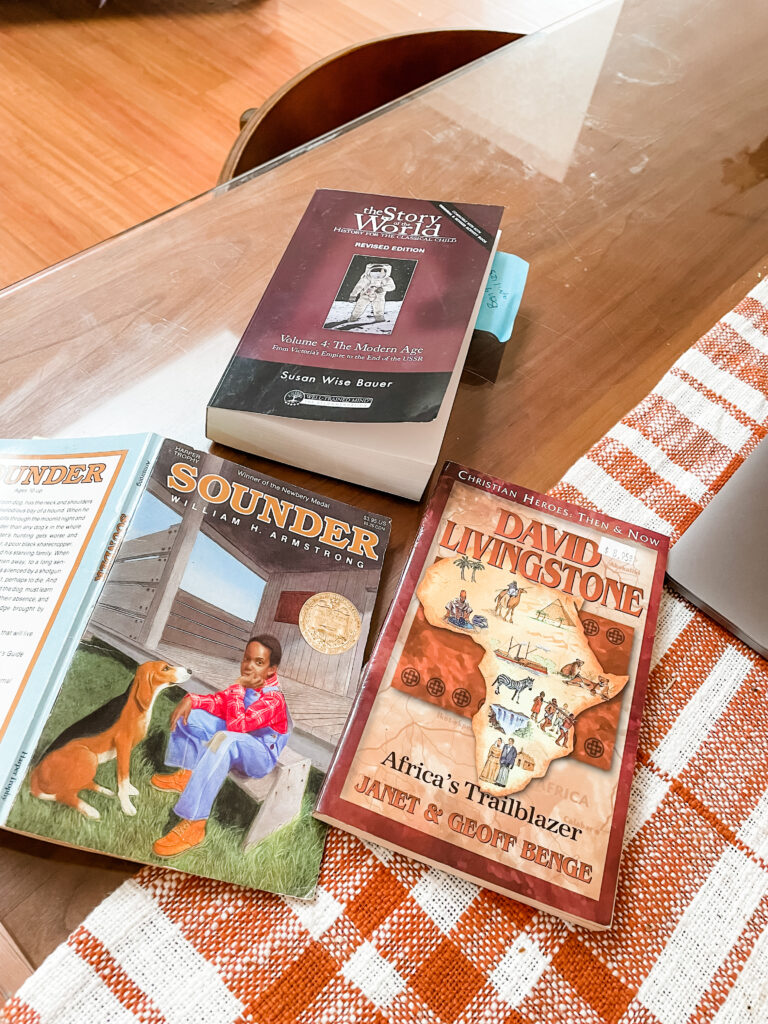 History, Science, Read Alouds, etc.
After the kids finish their chores and independent work we gather to work on history, science, writing, and current events together.
History: We have been using Story of the World for history for years. It's four volumes cover all of history in chronological order. I also use the audio CDs and the Activity Guides for supplemental activities and geography. This curriculum is adaptable for for K-8. Usually we'll read aloud or listen to a few sections of the book each day followed by our current read aloud.
In my research for 9th grade next year, I found The Good and the Beautiful history that is adaptable for the high school years. What I especially liked about the program is that it covers the whole scope of history every year covering different aspects or ancient, world, and modern history in each of it's 4 levels, but it also slows down and focuses on one period of history each year. So while it is covering ancient to modern, Year 1 for example, slows down and focuses on Medieval History which is what my boys are asking to learn about next year. So using this program, I am hoping to teach my 9th and 7th graders together. Time will tell how this will work out.
Current Events
We've been watching the daily news updates from World Watch News for the past few years. We watch during lunch everyday.
Tuttle Times This is a monthly magazine for kids ages 5-12 with lessons, activities, and projects to learn all kinds of important information about how the world works. I often use this for reading and writing comprehension as well.
Read Alouds
Most school days include anywhere from 5 minutes to several hours of read aloud time. It just depends on the day and what we're reading. Right now we're finishing up the epic story of Earnest Shackleton's South Pole excursion with this book.
We jump off from this book frequently to explore interesting facts from science, history, and geography.
Science
We began this year with a co-op class for science, but it wasn't a great fit so we have been following interests for science this year. So far we have studied wildlife and weather of the Southern Hemisphere, marine wildlife and weather of the Pacific Coast, animal care, plant care, and more.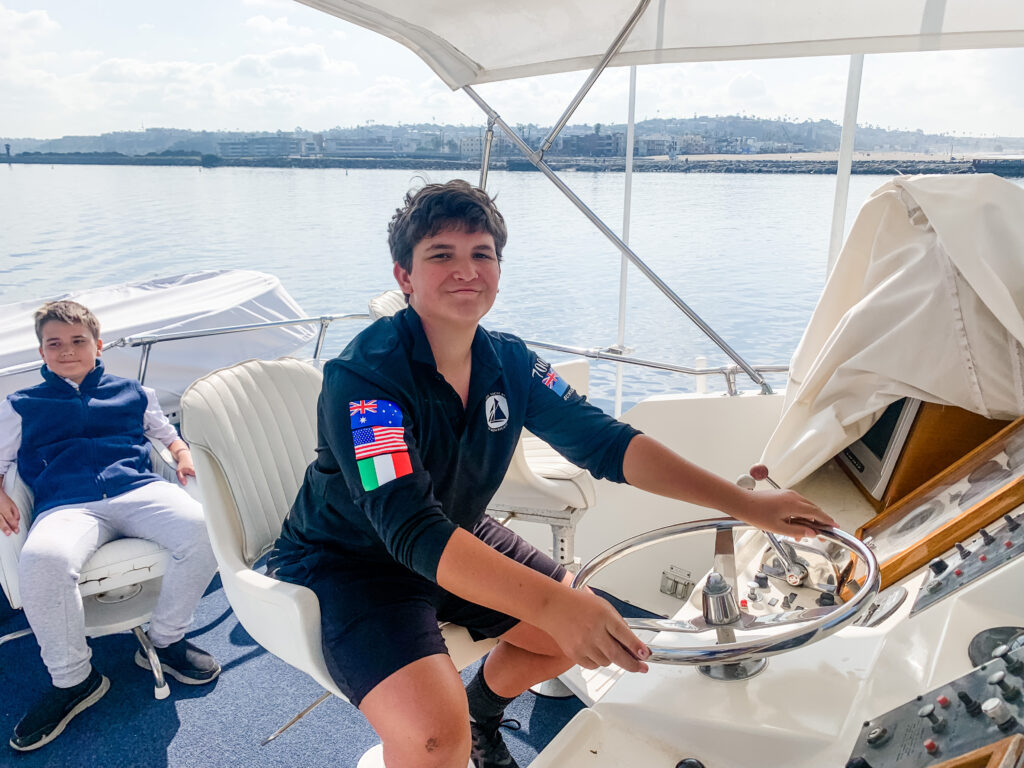 Remediation: Teaching Reading and Spelling
This year, all of my homeschooled kids are reading! Wow, just typing this makes me stop and reflect on all the years of hard work that went into getting my kids to read. 
If you are still working on reading, here are my best posts on how to teach reading at home, when to hire a tutor, and my favorite reading programs.
How to teach Reading to Kids With Dyslexia This is a series of 5 posts that cover what you need to know to teach your kids yourself.
At-home Reading Curriculum Review A review of the top 4 reading curriculum for kids with dyslexia.
Spelling is another story! Something important to understand about spelling is that it is slower and later to develop than reading.
We are using All About Spelling to work through and practice the rules of spelling. Another program that we have used with great success with our older kids is Reading Horizons Elevate. It is a comprehensive, online Orton-Gillingham reading and spelling program that systematically teaches and reviews all the rules of reading and spelling and is a great 'finisher' for older kids who are reading but need some extra review of rules to solidify spelling. I'll probably have my boys work through that this summer to keep them learning.
Composition
Composition has been mostly interest-led this year. I have used so many writing programs over the years that I feel comfortable teaching my boys good writing through creative, interest-led writing.
Writing program we have used and loved:
Timeline of our homeschool day
6:00: Mom up, coffee, quiet time, and work
7:00: Kids up, coffee, quiet time
8:00: Chores, morning routines
9:00: Independent work followed by a break
10:30: History, read aloud, spelling, current events
12:00: Lunch and a break
1:00: Time for anything we haven't finished. Teaching Textbooks math, writing/journaling assignments.
In years past, when my kids weren't reading, we spent a good chunk of time working on that each day. For several years we went to tutors twice a week for. I often hear parents say they don't have time for other subjects because teaching reading and spelling takes so long. My best advice for this season is to prioritize reading, but not to the point of making life miserable. Consistency is the most important thing (as well as using a research-based reading program). Work on the basics everyday and do as much as you can of other subjects.
Related: What to do When Reading Lessons Take all Day
We don't get everything done every day. There are days that we have dentist appointments or the dog is sick or I have a deadline with work, or the kids are really into their Lego creations or whatever, and I modify our routine to make room for these things. I used to worry a lot more about these breaks. I now know that they are nothing to be afraid of.
I have a mindset that learning is always happening whether we are working on spelling, grammar, to history or we are learning to care for a sick pet.
Read more: Mindset Shifts for Parents of Kids With Dyslexia
What do you think? Have questions? Drop them in the comments below!
More Day in the Life Posts